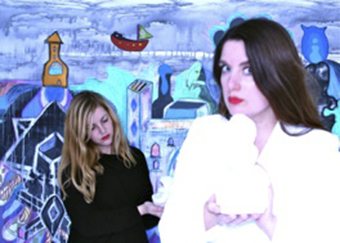 An Audio Guide to The Kvetny Galaxy
A NEW CO-LAB WITH SINGER-SONGWRITER CAMILLE GREY
"An Audio Guide To The Kvetny Galaxy" is a journey into an artistic universe through music. Lyrics and music are created in a collaboration between Ida Kvetny and singer/composer Camilla Kjaer.
From various paintings and drawings we create music, text and animation. Our ambition is to invite the viewer to participate in an expedition to faraway galaxies where the meeting with large flesh coloured containers, the lavender sky and a sculpture valley dawn leaves a key to the viewer and his/her possible desire to even travel in his/her inner life.