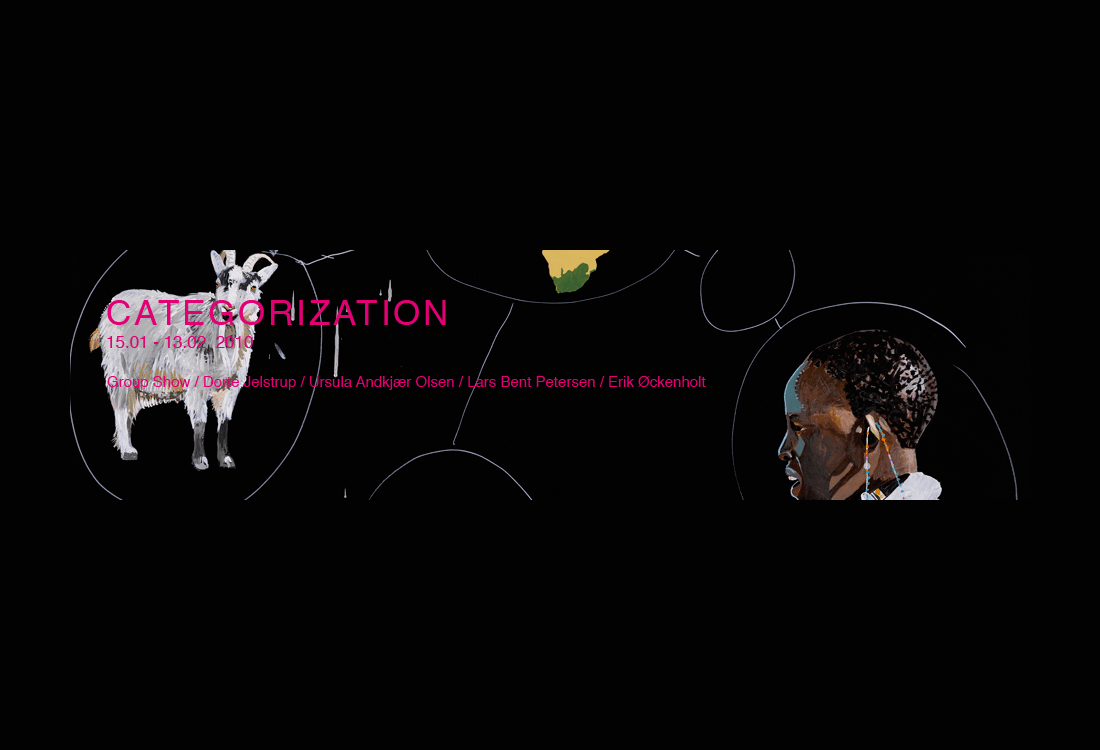 Categorization / Group Show
Galleri Christoffer Egelund is proud to present the group exhibition Categorization where four Danish artists are presented: Dorte Jelstrup, Erik Øckenholt, Lars Bent Petersen and Ursula Andkjær Olsen. With their unique individual style, they each contribute to a varied and thought-provoking exhibition. Hence, visitors can experience everything from montage and drawing to painting, sculpture and poetry.

The exhibition Categorization focuses on these years' enhanced trend of categorizing and segmenting everything and everybody. In this context, we could say that the four artists question especially the type of categorization that generalizes and trivializes our concept of human beings and life – something that an increasingly simplified news stream holds a substantial responsibility for. Thus many of the works engage in different kinds of representation criticism. In other words, the goal of the exhibition is not to contribute towards increased categorization, but on the contrary to question the kind of outlook that stems from this simplified trend towards categorization. Via the exhibition, the visitor is confronted with new and unexpected questions which challenge the spectator to take a more reflexive approach to our existence in the world, and hence to a potentially more sensitive approach to human life.

Dorte Jelstrup (b. 1964) has exhibited widely inside and outside Denmark and is represented in, for instance, the collections of the National Gallery of Denmark, the Museum of Southern Jutland and the National Gallery in Prague (Czechia). Erik Øckenholt (b. 1961) graduated from the Royal Danish Academy of Fine Arts (1982-88) and subsequently the School of Visual Arts and Art Presentation (1989-91). He is represented in, for instance, the National Gallery of Denmark and Vejle Museum of Art. Lars Bent Petersen (b. 1964), who graduated from the Royal Danish Academy of Fine Arts (1985-92), attracted attention with the solo exhibition Dreams, Lies and Other Works that was awarded a prize by the Danish Arts Foundation, at Overgaden – Institute of Contemporary Art. Moreover, he is represented in the Kastrupgaard Collection and at Esbjerg Museum of Art. Ursula Andkjær Olsen(b. 1970) graduated from Copenhagen University as Master of Arts in Musicology and Philosophy and from the Authors' School (1997-99). She has recently published Havet er en scene (The Sea is a Scene) (Gyldendal 2008), which was, amongst other things, nominated for the Nordic Council Literature Prize, and awarded a prize by the Danish Arts Foundation.

Galleri Christoffer Egelund cordially invites you to the Private view of the group exhibition Categorization, on Friday 15 January from 4pm to 7pm. The exhibition will subsequently be on show during the period January 16 – February 13 2010. Opening hours: Monday-Friday 11am to 6pm, Saturdays 12pm to 4pm. For further information about the exhibition and press photos please contact Rasmus Lindquist on: info@egelund.dk.