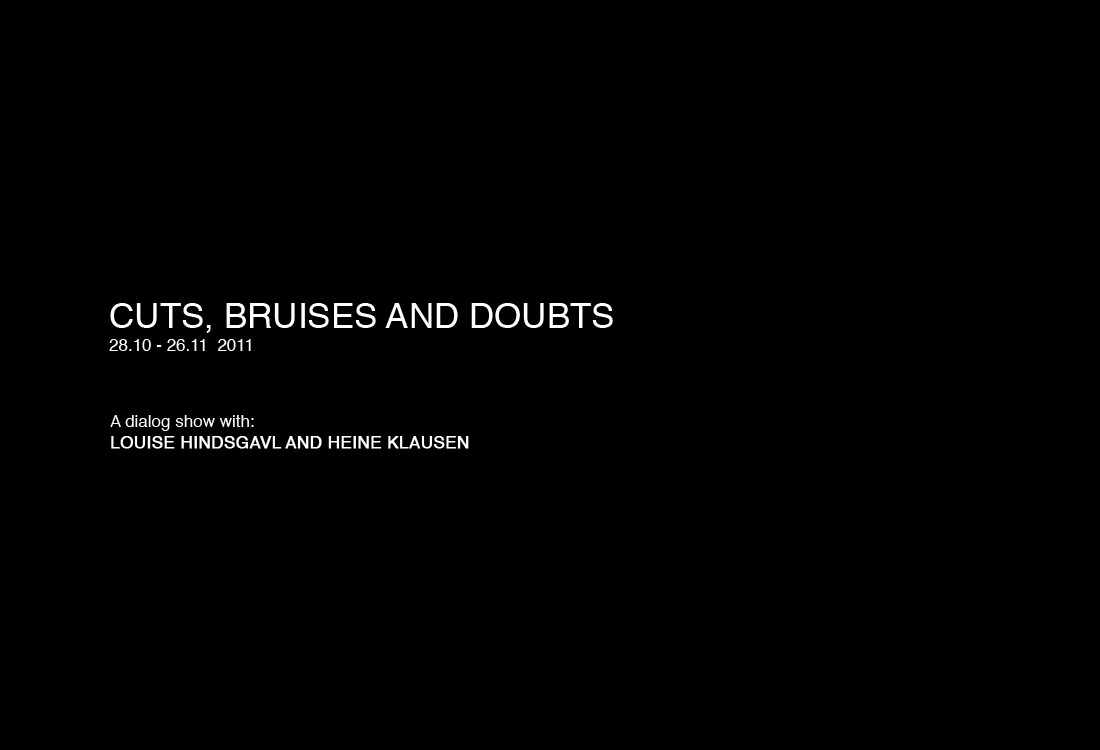 It is with great pleasure that Galleri Christoffer Egelund presents "CUTS, BRUISES AND DOUBTS", the first dialog show by Louise Hindsgavl and Heine Kjaergaard Klausen. While Hindsgavl shows new porcelain sculptures and a series of photographs, Klausen presents a series of new collages.  These Danish artists both work with serious themes represented in an eye-catching aesthetic. With great passion, the two artists investigate subjects such as the fragility of life, fatness and the complexity of love, often adding a humorous twist, that makes is appear grotesque at times.

Louise Hindsgavl's hallmark is figurative porcelain sculptures. Crafted beautifully and with delicacy, but violent in terms of content. While she has previously been concerned with the dark and repressed side of the human mind, there is now a clear focus on the fragility of life.  Hindsgavl is concerned with both the potential and the inevitable aspects of our existence. In the exhibition the porcelain sculpture "The Opportunistic", depicts a couple cuddling. The couple is losing ground though, their love is just a phase, and the potential tragedy lurks just around the corner. Another sculpture is "Hope # 3 – After the Rapes" in which a bear-like figure of a woman in anger and despair is holding her lifeless daughter. The sculpture shows us the moment where the terrible transformation has occurred. In addition, Hindsgavl also shows a series of photographs documenting the destruction of an otherwise perfect porcelain sculpture. The photographs are an example of how the artist quite literally is working with the concept of frailty.
Unlike Hindsgavl the works by Heine Kjaergaard Klausen are less violent in their immediate presence. In the exhibition we see his familiar collages with text quotations, and also collages of tattooed bodies. The text quotations are usually in bold letters, which have been cut out and covered with images. As often before in his work, the quotes in this exhibition are longer sentences, taken from well known pop songs. We experience the text-collages "Let the Children Play" and "Living in a box", where images display a series of coffins. In the artist's text-collages there is a clear conflict between text and image, from which new, interesting reading arise. In the tattoo-works of Klausen, the viewer is introduced to a more decorative universe. The motives range from peacock feathers to terrifying snakes. The tattoos suggest a transformation of the skin's flat surface to a pictorial depth, and they are a great extension of the artist's other more ornamental approaches, as seen in some of his drawings and knitted textiles. Besides collages Klausen is especially known for its large, experimental sculptures in wood. 

Louise Hindsgavl (b. 1973) graduated from Kolding School of Design, Department of ceramics and glass, in 1999. She has been widely exhibited in biennials and exhibitions including BICC, Biennale of Contemporary Cemramics in Vallauris, France, Cebiko World Biennale in Korea and solo show at Randers Museum of Contemporary Art, additionally she is currently participating in a museum exhibition at The Museum Villa Rot in Germany, where she exhibit together with the world renowned Chinese artist Ai Wei Wei. Her works is represented in major collections such as The National Museum in Stockholm, Victoria & Albert Museum in London, Trapholt in Denmark, Ny Carlsbergfondet, Röhska Museum in Gothenburg and Danish Museum of Art & Design in Copenhagen and she has received several prestigious grants, The Danish Art Foundation's 3-year grant, Kay Bojesen and wife Erna Bojesen's Memorial grant, Annie and Otto Detleft's Award for young ceramicists and Silkeborg artists grant. Heine Kjaergaard Klausen (b. 1978) graduated from the Royal Danish Academy of Fine Arts in 2006. He is one of the co-founders of the independent artist-run exhibition space called skulpturi.dk. He has made public art works, and is represented in several private collections. In addition, the artist has also participated in several exhibitions, including shows at Brandts in Odense, Kunsthal Charlottenborg in Copenhagen and the exhibition space Overgaden in Copenhagen etc.

Galleri Christoffer Egelund invites you to the opening of the dialog show "CUTS, BRUISES AND DOUBTS" Friday October the 28th from 4pm to 7pm. Louise Hindsgavl and Heine Kjaergaard Klausen will be present, and the exhibition runs until November 26th 2011. Opening hours: Monday – Friday 11am to 6pm, Saturdays 12pm – 4pm. For further information and press photographs, please contact the gallery: info@egelund.dk or call +45 33 93 92 00.