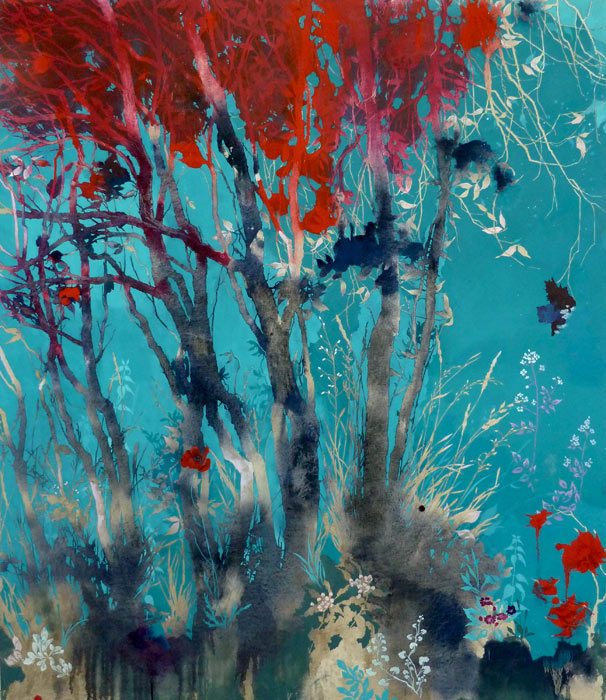 Garden Tales by Henrik S. Simonsen – Please join us for the opening reception Friday April 13 from 4-7 pm..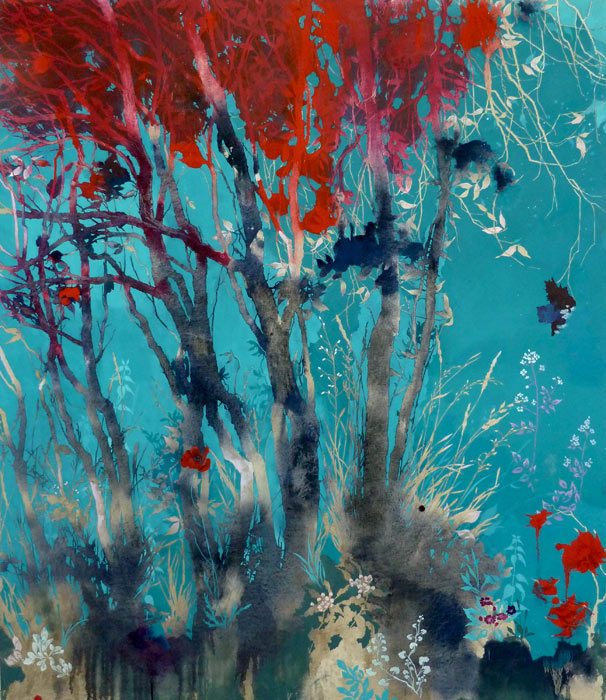 GARDEN TALES
13. April – 13. May 2012
It is with great pleasure that Galleri Christoffer Egelund presents the solo show GARDEN TALES by Henrik S. Simonsen. The Danish artist lives and works in England, where also most of his exhibitions take place. Therefore, with this exhibition the Danish audience gets an unique chance to experience a greater variety of the popular artist's alluring works of nature. Along with the solo show, in the project room, the gallery shows the graphic exhibition PRINTS PRINTS PRINTS. Here you can experience an excellent range of original, international prints of high quality.
The exhibition GARDEN TALES consists of a series of Henrik S. Simonsen's new paintings, where red, blue, black and turquoise dominate. For years his work has had nature as an essential theme. It is the wild nature's infinite variety and complexity in even the simplest forms, he captures on his canvases. His fascination with nature is linked to its inexhaustible richness and metaphorical ability to speak of human existence. At his latest works, we see fairytales as an influence, which the exhibition's title also indicates. He embeds the fairytales in his colorful and life-affirming paintings, and as a viewer the imagination is supported by titles such as Witches Gloves and The Ant and the Grasshopper.
Drawing is vital to Henrik S. Simonsen's work. He draws the various elements freehand and prefers to keep all drawings as part of the finished work. The marks reveal the birth of the piece, a deliberate move to avoid an impenetrable and anonymous surface. In his latest paintings we encounter a clash between the drawn elements and fields with oil paint, which is either poured or thrown at the canvas. The Danish artist's modern representation of nature is comparable to other art from Scandinavia, inspired by natural forms. Simonsen is also influenced by the Rococo-period; a movement developed in the early part of the 18th century France. Here artists found inspiration in nature, and celebrated the organic and a-symmetric. Finally, he also finds inspiration from the 18th and 19th century decorative wallpapers and Chinese screen painting.
Henrik S. Simonsen (b. 1974) graduated from Sotheby's Institute of Art, London and Montclaire University, New York. He has exhibited at the Royal Opera House (2008), London and in New York, and he has had several solo shows in renowned galleries such as Forster Gallery in London, Opus Gallery in Newcastle and Byard Gallery in Cambridge. His paintings, drawings and prints are in numerous private and corporate collections including the impressive art collection at the high-profile St. Pancras Hotel in London, which also includes works by Donald Judd ect. Finally, several galleries has shown great interest in exhibiting his works in the near future.
Project Room
April 13th is also the opening of the graphical show PRINTS PRINTS PRINTS in the gallery's project room. Here You can experience works by the following internationally known artists: Kate Allen (UK), Lucie Bennett (UK), Marco Bettoni (IT), Peter Davies (UK), Mark Hayward (UK) Jason Kedgley (UK), Peter Lloyd (UK), Polly Morgan (UK), Ed Moses, Simon Taylor (UK), Jacky Tsai (CN), David Woolfall (UK) and Delphine Lebourgeois (FR). All artists have participated in numerous exhibitions and are represented in major private collections. Especially Polly Morgan should be mentioned, whose works are in the private collection of Damien Hirst among others. In her work we see animals placed in less expected scenery and acting in a way, which causes us to look at them with fresh eyes. Ed Moses is a very interesting artist, and he has created a diverse body of predominantly abstract art. His work is included in many public collections, including The Museum of Modern Art (MoMA), New York and the Museum of Contemporary Art, Los Angeles. Also Peter Davies a Goldsmiths graduate debuted at the Sensation exhibition at the Royal Academy of Arts in 1997 and he has since exhibited at the Institute of Contemporary Arts and Saatchi gallery, London and is represented by Gagosian Gallery.
PRINTS PRINTS PRINTS is arranged in cooperation with Eyestorm – one of the UK's leading retailer of high quality edition prints.
Galleri Christoffer Egelund invites You to the opening of the exhibitions GARDEN TALES and PRINTS PRINTS PRINTS on Friday April 13th April from 4pm to 7pm. At the opening Henrik S. Simonsen will be present. The exhibitions will run until May 13th. Opening hours: Monday – Friday 11pm to 6pm, Saturdays from 12pm – 4 pm. For further information and press photographs, please contact the gallery at: info@egelund.dk or at +45 33 93 92 00.
All the exhibited works can be viewed at www.christofferegelund.dk