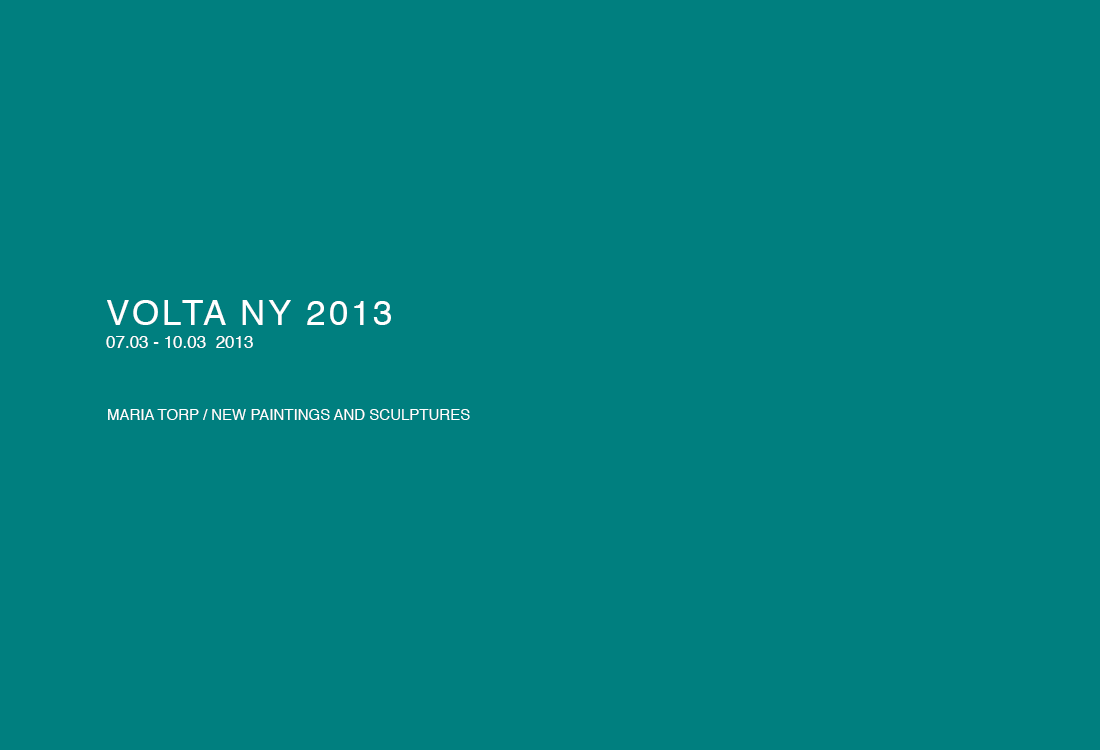 Maria Torp / Volta NY 2013
We are proud to present solo show by MARIA TORP with new paintings, sculptures and drawings.
Maria Torp (born 1975) masters the superrealistic genre, which has been a continuous feature in her oeuvre.
Her paintings are pure dynamic precision and yet they offer a sensibility, characteristic also to Torps sculptures and drawings.
Maria Torp invites us to rediscover the well known and inspires to curiosity towards the unknown. She works with her motives in an open dialogue of what they really portray as the narratives of minor details or formal expressions open up the motive or turns our understanding entirely upside-down.
Throughout her early career, drawings established the foundation of her work. More recently they have become an important inspiration both as an expression form of itself but also as a blueprint for her paintings and sculptures. The artist translates the drawings into photos, which she translates again into paintings – a process that both integrates and resolves the weight of the superrealistic style of painting and makes the experimental features more visible.
Working with ink and paper allows Torp to work with an intuitive and spontaneous approach . This results in a large quantity of drawings, that in action, mood or gesture refers to a person's character, story or situation. Subsequently, she stages the selected individuals and photographs them, then replicates their portraits in her interpretive paintings. With such simple narrative techniques, intuition and free play, Maria Torp converts the portrayed individuals into general characters in a mixture of realism, drawing, abstraction and expressionism.
Maria Torp lives and works in Copenhagen, Danmark. She graduated from the Royal Danish Academy of Fine Arts in 2007 and has previously studied at the London College of Printing. Torp has exhibited her works in several Danish art galleries, art museums and art institutions and has made commissioned work for corporations such as FTF, TrygVesta, Ferring and lately at the Velux Foundation. Furthermore Maria Torp is co-founder of the artist trio MAM, with the artists Anika Lori and Mette Geisler. At this years Volta Show NY we proudly present the emerging Danish artist Maria Torp. She is exhibiting a new series of bronze sculptures and paintings inspired by the woman as underlying theme…
FAIR INFO:
VOLTA NY 2013 An invitational solo project fair for contemporary art.
82MERCER
Entrance at 76 Mercer Street (between Spring and Broome Streets
New York, NY 10013
TIMES:
Thursday, March 7 – Sunday, March 10, 2013
PREVIEW:
Thursday, March 7,  10 am – 2 pm (by invitation only)
Guest of Honor       10 am – 2 pm
VIP / Press              12 pm – 2 pm
Mutually acknowledged VIP Access with The Armory Show
PUBLIC HOURS:
Thursday, March 7, 2 pm – 8 pm
Friday – Saturday, March 8 – 9, 11 am – 8 pm
Sunday, March 10, 11 am – 6 pm
VOLTA NY is an invitational show of solo artists' projects and is the American incarnation of the successful young fair founded in Basel in 2005. VOLTA NY was conceived by art critic and fair director Amanda Coulson to continue the original mandate of a tightly-focused, boutique event that is a place for discovery. Both Basel and New York fairs provide a showcase for current art production and relevant contemporary positions regardless of the artist or gallery's age.
By putting the focus back on artists through exclusively featuring solo projects, VOLTA NY promotes a deep exploration of the work of its selected projects, an opportunity for discoveries that move beyond those afforded by a traditional art fair. While many fairs provide a broader overview, with more represented artists in each booth, visitors to VOLTA NY compare the experience to a more focused series of intense studio visits.
A platform for challenging, often complementary, sometimes competing ideas about contemporary art, the strictly solo format is what gives the New York fair its unique character.