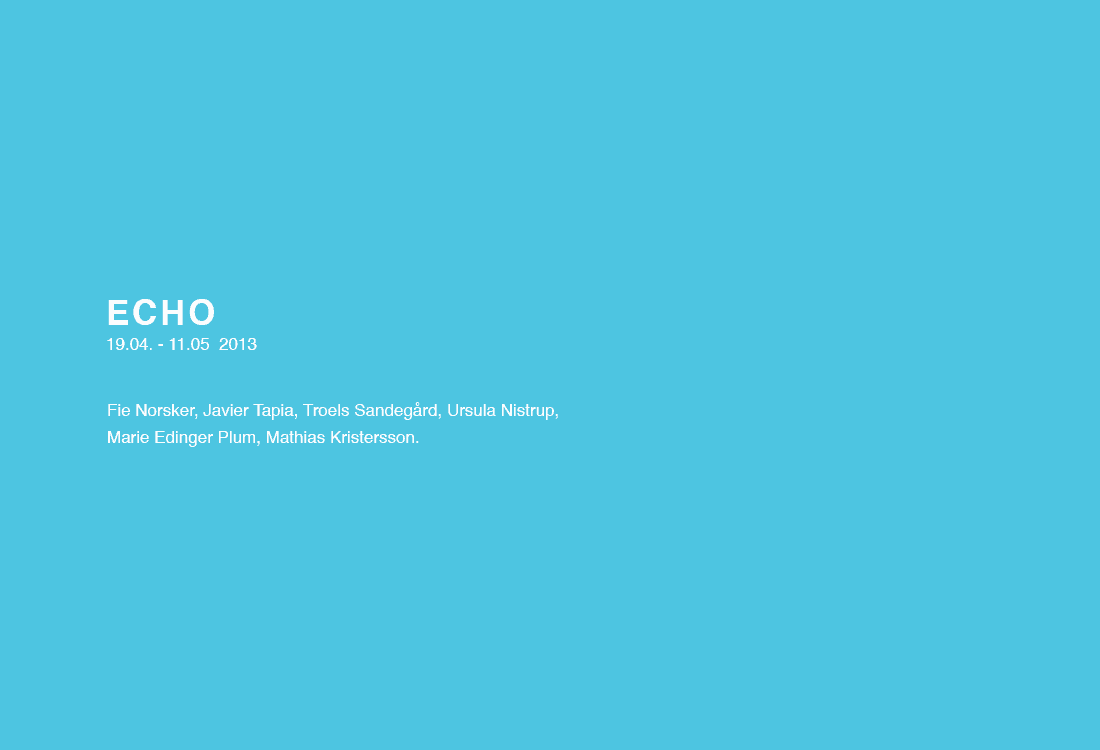 Galleri Christoffer Egelund proudly presents "ECHO", a group exhibition featuring new works by some of today's most interesting artists. The participating artists are Mathias Kristersson (S), Ursula Nistrup (DK), Fie Norsker (DK), Troels Sandegård (DK), Marie Edinger Plum (DK) and Javier Tapia (Chile).

The main theme of the exhibition is "echo", a concept that has raised the following thoughts and associations by the participating artists: repetition, backscattered sound, repetition with the reduction of content, a source, a form of multiple unstable modes, stopping of time, reflection of sound waves, shifts in time, retention of an event, a metaphor for a complex condition, a meta-dimension, a déjà vu of sound, the Greek nymph Echo … etc.

At the exhibition the artists not only shows very different perspectives on echo as a word and concept, but also their distinctive works in a variety of media.

The six artists all graduated from art academies, they all have a long line of exhibitions behind, and they all work in multiple media. Mathias Kristersson's (b. 1979) original works often revolve around themes such as communication and language, where the language is presented as an obstacle to human interaction. While Kristersson is represented at Malmö Art Museum, you will for instance find the recognizable work of Fie Norsker (b. 1974) at The National Gallery of Denmark and at the New Carlsberg Foundation. Norsker is known for her expressive landscape paintings depicting organic forms and for her humorously ceramic sculptures. Ursula Nistrup works with sound, photography and installation. Her attractive works are often about how we percept and communicate in both physical and mental spaces. Troels Sandegård (b. 1979) on the other hand is concerned with scientific phenomena, from which he creates his living sculpture installations. His art has received much attention, since he graduated from the Royal Danish Academy of Fine Arts in 2007. Also Marie Edinger Plum (b. 1982) master the large scale with her feminine total installations. Often she works with a clash between the past and the present, the beauty and vulgar ect. Since 2002 the Chilean artist Javier Tapia (b. 1976) has lived and worked in Copenhagen. Among others, his work focuses on art as a social meeting place. His impressive series of exhibitions includes solo shows in London, Hamburg and Barcelona ect.  

Galleri Christoffer Egelund invites You to the opening of the group show "ECHO" on Friday April 19th from 4pm – 7pm. At the opening the artists will be present. The exhibition will run until May 11th. Opening hours: Monday – Friday from 11-18, Saturdays from 12-16. For further information and press photographs, please contact the gallery at: info@christofferegelund.dk or at +45 33 93 92 00.