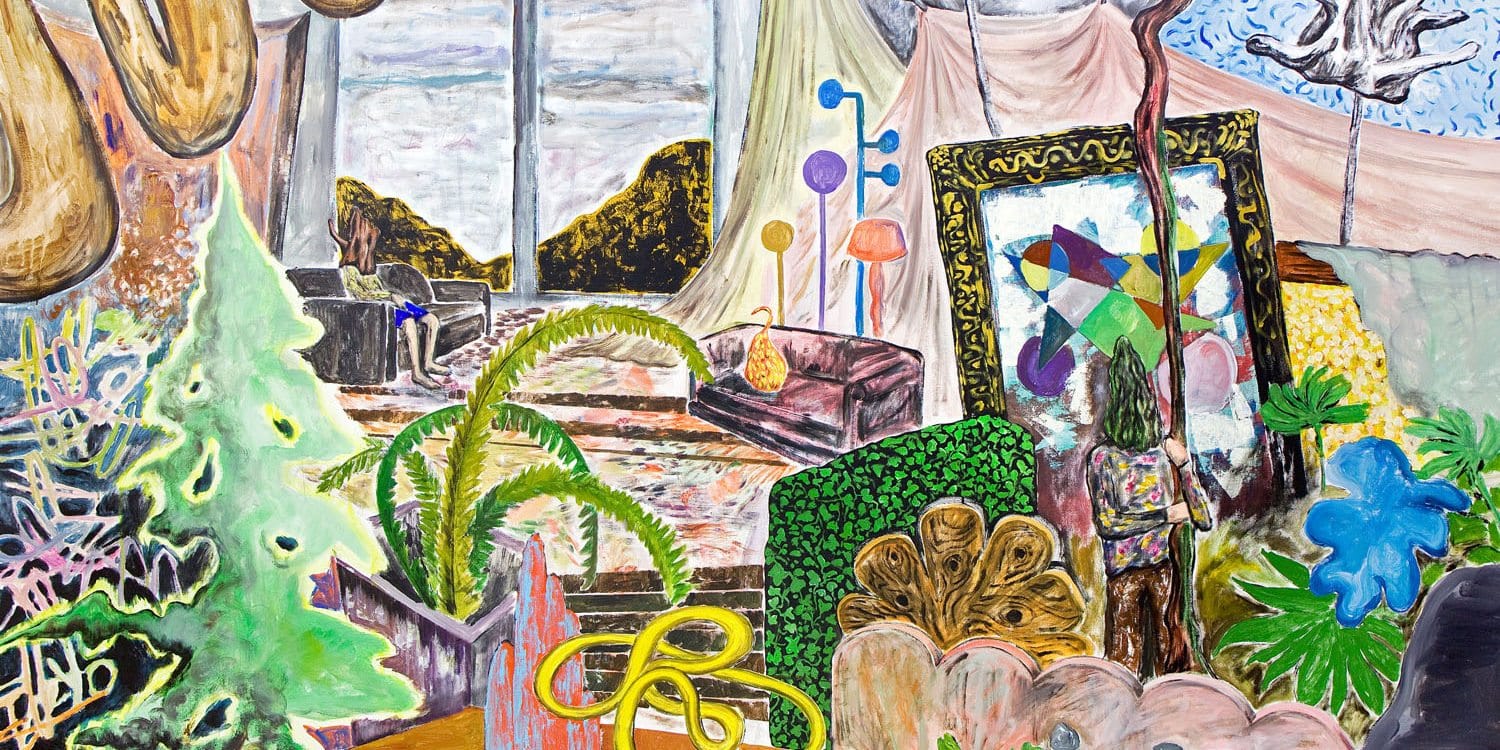 Opening Reception Friday October 13 From 5-8 PM
YUICHI HIRAKO (JP) / SPROUT / 13.10.-25.11.2017
Galleri Christoffer Egelund is proud to present the young Tokyo-based artist, Yuichi Hirako's third solo exhibition "Sprout". The exhibition consists of a series of new paintings and sculptures where the Japanese artist seeks towards the light and examines the beneficial interaction between human and nature. It is the modern urbanized human being own relationship with the wild nature, which is central to Hirako's artistic work. In a exuberant dream world where human life intermarriage with the primeval forest, Hirako identifies with both humor and insight the state of the civilization.
Antrophomorphic creatures inhabit the sprouting scenes of Yuichi Hirakos paintings and for a while the rooms of Galleri Christoffer Egelund as well when the plant-like beings seem to have crawled from the canvases into the rooms as sculptures. The renaissance artist Giuseppe Arcimboldo painted fantastic portrait heads made out of flowers, vegetables or fruits. In Hirakos paintings it seems like these plant people have been attributed bodies to walk around in a fairytale-like universe. Animated brushwork and pulsating colouring forms a world where the boundaries between culture and nature, man and plant and indoors/outdoors are non-existent.
In the art of Hirako it is not only nature and man that meet but also Western and Eastern notions. In Japan plants have earlier been given a godlike status, a phenomenon called Shinboku. In Western myths and fairy tales the wood and wild nature have been associated with quite other meanings; this is the habitat of witches, trolls and other horrific creatures. Hirako's forests contain the holy and magical as well as the gloomy and threatening; this artist uses equally sized portions of light and dark colours.
Yuichi Hirako (b. 1982 in Okayama, Japan) graduated from Wimbledon College of Art in London in 2005. He now lives and works in Tokyo, Japan. Since his graduation he has exhibited at national as well as international venues including; The Museum of Modern Art (Gunma) in Japan, Museum of Contemporary Art in Tokyo, The Museum of Kyoto, Temporary Contemporary in London. He has received several art prizes from which could be mentioned VOCA 2013 (Vision of Contemporary Art), Tokyo Wonderwall Prize 2010 and Shell Art Award 2009.
Galleri Christoffer Egelund cordially invites you to the opening of Yuichi Hirako: Sprout, Friday the 13th  of October 2015. The artist will be present during the opening reception. The exhibition will run until November the 25th. Opening hours: Tuesday-Friday 11-18, Saturdays 12-16. For further information on artworks and press photos please contact the gallery at: hello@christofferegelund.dk or at +45 33 93 92 00.
View all works