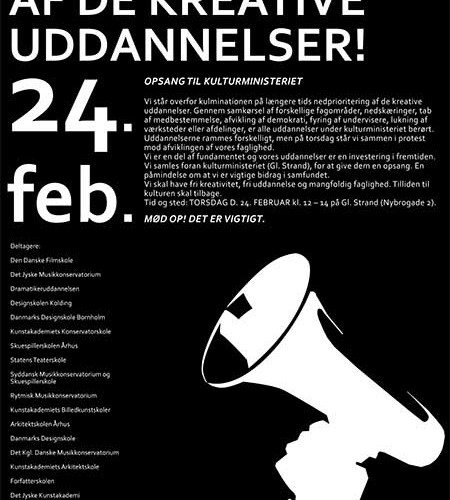 Stop dismantlement of the creative education!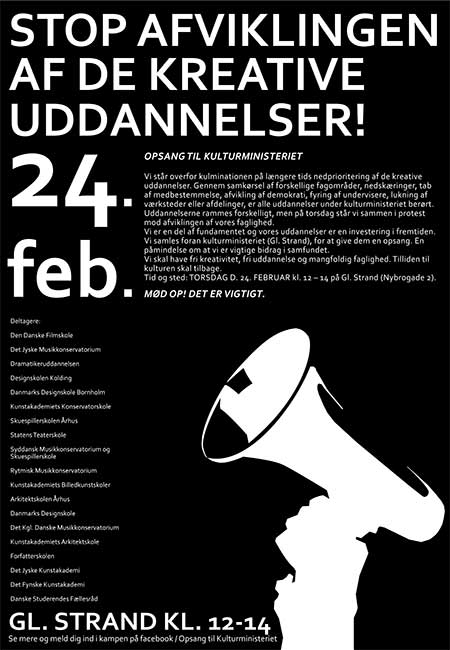 Opsang til Kulturministeriet
De kreative uddannelser, protesterer mod afviklingen af deres faglighed og uddannelser.
De har gennem de sidste ti år mærket forringelser af de kreative uddannelsesinstitutioner. Det har haft forskellige konsekvenser. For nogen har det betydet sammenlægninger, for andre afskedigelse af vigtige undervisere, nedlæggelse af værksteder, afdelinger og arbejdslokaler.
Det rammer hårdt og direkte på deres undervisning og muligheder for at arbejde. Desuden indføres politisk topstyring (med en ny styrelseslov) på mange af deres skoler, så rektor ansættes og afskediges af ministeren uden faglig forudsætning og med uindskrænket magt.
De samles, ALLE uddannelsesinstitutioner + sympatisører foran kulturministeriet (Gl. Strand), for at give dem en opsang. En påmindelse om at de er vigtige bidrag i samfundet.
De skal have fri kreativitet, fri uddannelse og mangfoldig faglighed. Tilliden til kulturen skal tilbage.
Tid og sted: TORSDAG D. 24. FEBRUAR – kl. 12 – 14 på Gl. Strand (Nybrogade 2), København K.
MØD OP! Det er vigtigt for fremtiden.