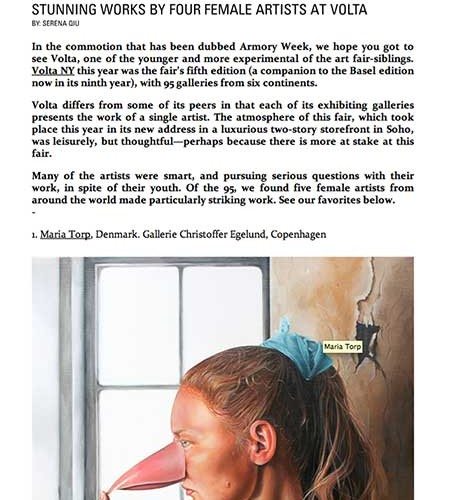 STUNNING WORKS BY FOUR FEMALE ARTIST AT VOLTA NY AND MARIA TORP IS ONE OF THEM…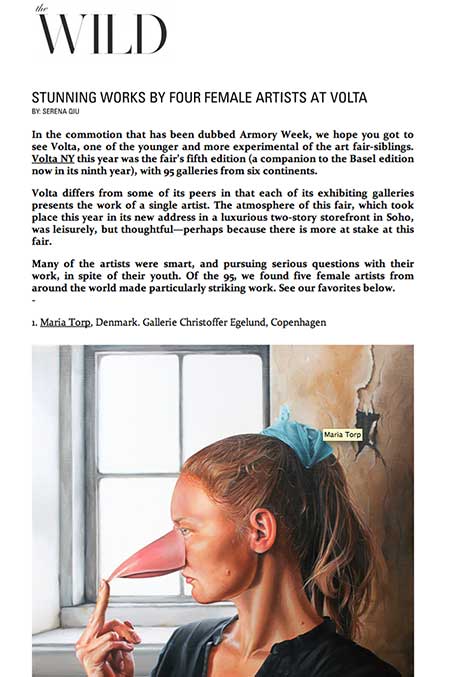 In the commotion that has been dubbed Armory Week, we hope you got to see Volta, one of the younger and more experimental of the art fair-siblings. Volta NY this year was the fair's fifth edition (a companion to the Basel edition now in its ninth year), with 95 galleries from six continents.
Volta differs from some of its peers in that each of its exhibiting galleries presents the work of a single artist. The atmosphere of this fair, which took place this year in its new address in a luxurious two-story storefront in Soho, was leisurely, but thoughtful—perhaps because there is more at stake at this fair.
Many of the artists were smart, and pursuing serious questions with their work, in spite of their youth. Of the 95, we found five female artists from around the world made particularly striking work. See our favorites below.
1. Maria Torp, Denmark. Galleri Christoffer Egelund, Copenhagen
Maria Torp's painting and sculpture take the human body as a medium in which to stage surrealist manipulations and possibilities. Her cast of characters is idiosyncratic and anonymous, performing playfully ambiguous narratives. This is all to speak nothing of Torp's fine technical ability and gritty manipulation of color.
View the full article click here