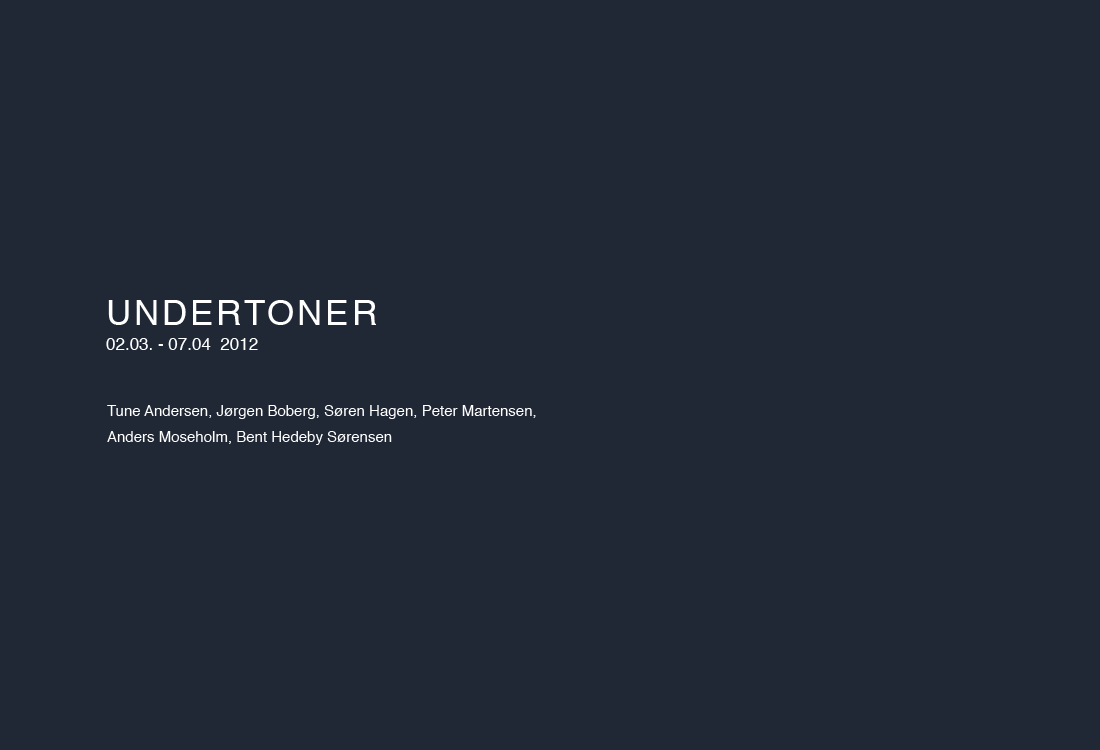 It is with great pleasure that Galleri Christoffer Egelund presents the group exhibition "Undertones" featuring new work by Tune Andersen, Jørgen Boberg, Søren Hagen, Peter Martensen, Anders Moseholm and Bent Hedeby Sørensen. As the exhibition's title "Undertones" suggests, the 6 artists create several layers of unsettling, evocative universes.

'You have to know that there is a dark cellar into which you can descent and get drunk. Because if light is to fall everywhere you have to carry the dark within you. And that is unbearable.  (Quote from by Søren Ulrik Thomsen)

Calculating strategies and the urge to be in the news are not what the five living artists and one deceased who formed the group exhibiting at Galleri Christoffer Egelund have at heart. They all challenge realism, they are grown men who for many years have had an approach to art which was not exactly trend-setting. With one exception, they never attended the Academy on Kongens Nytorv. The exception (Anders Moseholm) painted his first realistic paintings in the secrecy of his two-room flat during his studies in the early Nineties.

They have as their point of departure that which is timeless, and for them, the building blocks which are laid on top of a wall of traditions that will persist after their departure from this world. What they do is not to tear down, to settle or to chuck out, but to dispute what others have meticulously built and to give it an extra push.

A painting has to sensual and traditions make things possible rather than imposing limitations. The artists use cameras, computers, brushes and paint. Photos are often used as sketches, at times as a goal in themselves. Their craft and technique play a significant role in their striving to create an impression with presence.

Tune Andersen, Søren Hagen, Peter Martensen, Anders Moseholm and Bent Hedeby Sørensen show their latest works and have invited along their deceased colleague Jørgen Boberg, who throughout his life sustained a magically realistic universe. Apart from his finished works, visitors to the exhibition will also be able to see the painting he was working on when death caught up with him in August 2009 – a vision of Paradise.

Galleri Christoffer Egelund invites you to attend the vernissage of the exhibition "Undertones" on Friday 2 March from 16-19. The artists will be present at the vernissage. The exhibition will run until April 7 2012. Opening hours: Monday – Friday 11-18, Saturdays from 12-16. For further information and press photos, please contact the gallery at: info@egelund.dk or call +45 33 93 92 00.