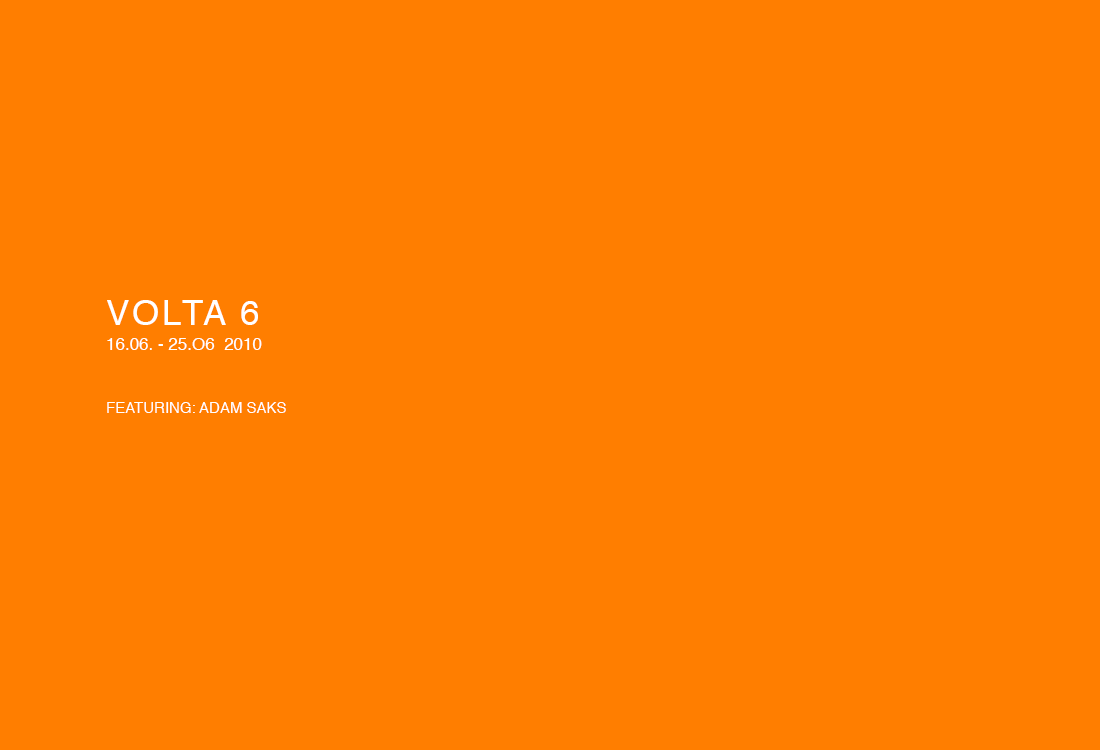 IT IS WITH GREAT PLEASURE THAT WE ANNOUNCE OUR PARTICIPATION AT VOLTA 6 BASEL FEATURING A ONE MAN SHOW BY ADAM SAKS.
WE ARE LOOKING FORWARD TO WELCOMING YOU IN BOOTH B35
Adam Saks was born in 1974 in Denmark, where he also grew up. For the past 10 years he has been living in Berlin. He has studied at The Royal Danish Academy of Fine Arts, Copenhagen (1993-99) and at the Hochschule der Künste, Berlin (1996-97) where he studied under the German painter, Professor Bernd Koberling. Adams Saks has been featured in exhibitions in Denmark and internationally and has had solo shows in places such as Lieu d'Art Contemporain in Narbonne, France, The Nordic Watercolour Museum in Skärhamn, Sweden and is currently showing at ARoS Museum of Art, Aarhus, Denmark until Aug. 1, 2010. Saks' work is represented in the collections of Danish National Gallery, Copenhagen, Denmark; KUNSTEN Museum of Modern Art, Aalborg, Denmark; Malmö Art Museum, Malmö, Sweden; Sønderjyllands Kunstmuseum, Tønder, Denmark; the Lieu d'Art Contemporain, Narbonne, France; and Nordic Watercolour Museum in Skärhamn, Sweden. In addition, Saks books Sealevel, Kleinheinrich Verlag, with text by Kay Heymer (director of Düsseldorf Kunstmuseum), and Elephant Island, Kerber Verlag, were published in 2009.
More information about Adam Saks and press materials please contact the gallery by email info@egelund.dk or call us +45 339 392 00. To see a selection of work by Adam Saks vist www.gce.nu
VOLTA 6 BASEL will be held this year from Wednesday, June 16th through Sunday, June 20th.
The fair is relocating to a NEW site at the Dreispitzhalle close to the Schaulager and will present 81 galleries presenting emerging and cutting-edge art. For more information visit www.voltashow.com