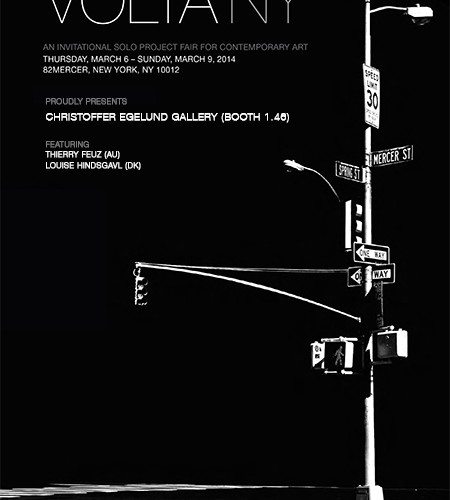 Christoffer Egelund Gallery proudly to presents two solo shows at VOLTA NY – Thierry Feuz (AU) and Louise Hindsgavl (DK)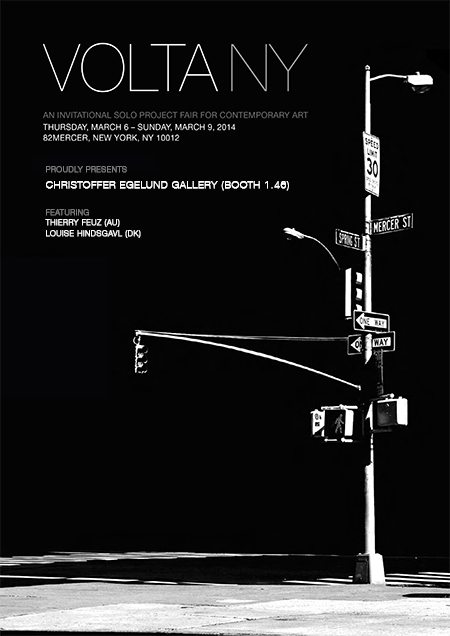 VOLTA NY is an invitational show of emerging solo artists' projects and the American incarnation of the successful young fair founded in Basel in 2005. VOLTA NY was conceived in 2008 by Artistic Director Amanda Coulson as a tightly-focused, boutique event that is a place for discovery, a showcase for relevant art contemporary positions regardless of the artist's or gallery's age.
By refocusing the fair-going experience to solo-artist projects, VOLTA's New York edition promotes a deep exploration of the work of its invited participants and offers the opportunity for new discoveries. VOLTA showcases galleries — whether young or mature — that choose to work with the most exciting emerging artists. These galleries must maintain deeply meaningful connections with their artists and follow them throughout their careers. In turn, select galleries exhibit in the airy loft surroundings of VOLTA NY's SoHo venue, elevating their respective platforms for an experience mutually beneficial to fair visitors and the galleries alike.
VOLTA NY is a platform for challenging, often complimentary – and sometimes competing – ideas about contemporary art. The strict solo format gives the New York fair its unique character, which curators and collectors often compare favorably to experiencing a series of intense studio visits.
VOLTA NY 2014
March 6–9, 2014
An invitational solo project fair for contemporary art.
82MERCER | New York, NY 10012
Thursday, March 6 – Sunday, March 9, 2014
PREVIEW, by invitation only: Thursday, March 6
Guest of Honor         11 am – 2 pm
VIP/Press                   2 pm – 5 pm
PUBLIC VERNISSAGE
Thursday, March 6, 6 – 9 pm
sponsored by AVERNA
PUBLIC HOURS
Friday – Saturday, March 7 – 8, 10 am – 8 pm
Sunday, March 9, 10 am – 5 pm
Monday – Friday from 11-18
Saturday from 12-16
or by appointment
This year we are proud to present two solo shows at VOLTA NY:
THIERRY FEUZ (AU) and LOUISE HINDSGAVL (DK) – BOOTH 1.46
Louise Hindsgavl's (b. 1973) fascination with mutants, who are part human and part animal, does not spring from a love of science fiction or an interest in new experiments in cross-species transplantation. What she is doing is highlighting people's second nature: that side of human nature, which is governed by pure instinct, lurking behind a polished surface and uncensored by the conscious self.
The artist works mainly in porcelain, and her works have a distinctly narrative expression, both when she works with one-off pieces and when she creates items of a more utilitarian character. She feels that we often let our predetermined images of others dictate our taste. She wants to change that tradition. This is why her works often possess surrealist undertones, where she produces a form of alternative reality for the viewer to enter.
Louise Hindsgavl graduated from Designskolen, Kolding, DK, in 1999 and has exhibited widely in Denmark, Europe, the US and Asia and her works has recently been on display at MAD New York for the curated show Body & Soul. Her works is represented in major collections worldwide including: National Museum Stockholm, Sweden; Victoria and Albert Museum London, UK; Minneapolis Institute of Arts, MIA, USA; Carlsberg Art Fondation, DK; The The Röhsska Museum, Gothenburg, SE; Designmuseum, Copenhagen, DK; MAD NY, USA; Trapholt, Kolding, DK; ASU Art Museum, Arizona, USA etc. Furthermore she has received The Danish Art Foundation work grant of 3 years.
Over the last decade Thierry Feuz (b. 1968) has had his international breakthrough with his four interconnected artistic styles: Psychotropical; Technicolor; Gulf Stream; and Supernatural. Typical of his unorthodox style is that he executes all his paintings in glossy car paint and makes an aesthetic use of strong colours to create space and form, which are highly evocative. He invites us into his enchanting world of images, a world which explores the imperceptible stages of change and decay, which endow nature's processes of creation and decomposition with a fascinating life and presence of their own.
His works reveal a world of biomorphic flowers, floating weightlessly in indefinable monochrome space into striped multicoloured image surfaces, where everything recognisable is dissolved.
Thierry Feuz (b. 1968) lives and works in Geneve and Vienna. He graduated from Ecole Supérieure des Beaux-Arts in Geneva and Universität der Ku?nste in Berlin in 1998. He has had numerous international solo and group shows in the last year alone, with four solo exhibitions in – Korea, Belgium, France and Germany. In addition he is represented in several major private and public collections such as; Art Singapore Foundation (SG); Credit Suisse (CH);  Musée d'Art et d'Histoire (CH); Pizzuti Collection (US); Saks Fifth Avenue Collection, NY (US);  Sal. Oppenheim Collection (CH); Fonds Municipal d'Art Contemporain (CH). Furthermore Feuz received the prestigious award The Atelier Visarte Switzerland, Cité des Arts, Paris, France.
For more information please call or write to Galleri Christoffer Egelund: +45 33939200 or info(a)christofferegelund.dk To view all exhibit works click here