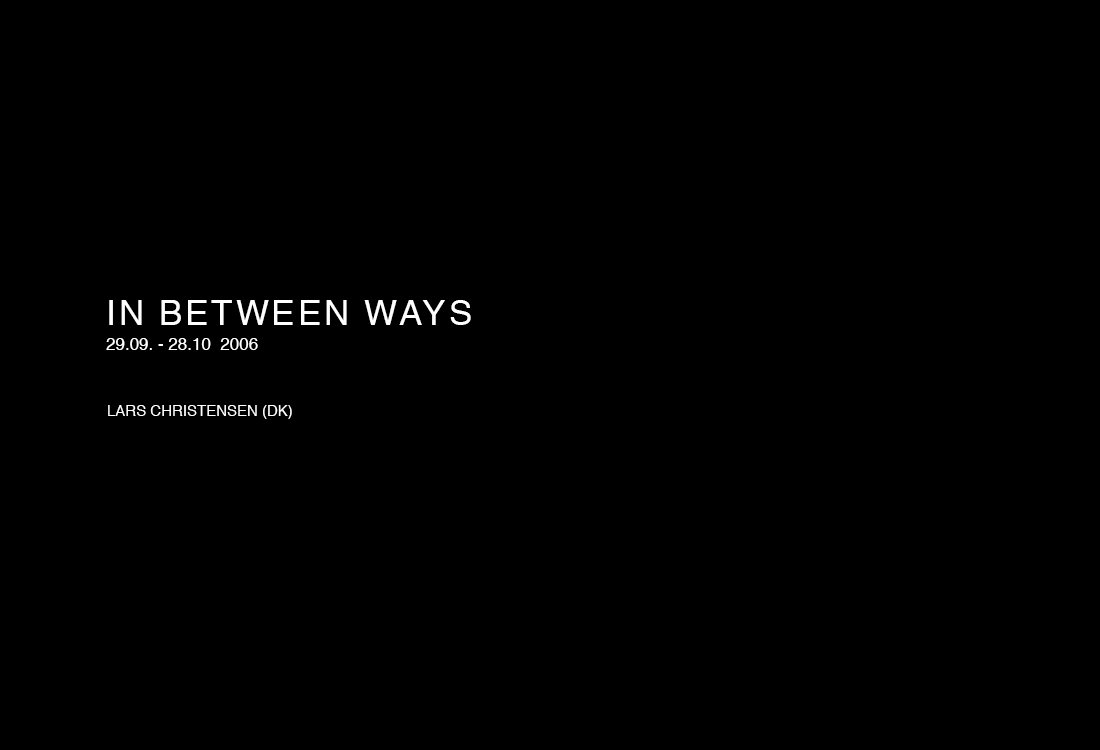 In Between Ways / Lars Christensen
/ English /
In Between Ways
By Ditte Vilstrup Holm, MA in Art History.
"Once upon a time…" We know the phrase so well from our childhood's fairytales. And three brothers departed, one after the other, to slay the dragon and win the princess and half the kingdom. Or whatever else they had to fight in order to win the grand price. It is a romantic cliché, perhaps, but nevertheless, the narrative force of the fairytale lies elsewhere. It is found in the variations developed on the familiar theme.
The youngest brother always won the princess, not because he was the youngest, but because he chose a more unconventional approach to the dangerous task. He made no direct attack at the dragon, but chose another strategy, surprising, cunning, and thereby effective. He walked between the clearly marked pathways. As if he was clever enough to see not only the overgrown rosebushes, but also the sleeping princess behind them.
Like fairytales, Lars Christensen's paintings are variations upon a well-known theme: abstract painting. On a monochrome background in broken shades twine a turmoil of ribbons in bright highlighted colours: neon green, sharp orange, bright blue. And like fairytales, Christensen's paintings show further dimensions, surprising and unexpected, when one follows the ribbons in behind their most immediate play of forms.
/ Danish /
In Between Ways
Af Ditte Vilstrup Holm, mag.art i Kunsthistorie.
"Der var engang…" Vi kender frasen så godt fra vores barndoms eventyr. Og tre brødre drog ud, én efter én, for at dræbe dragen og vinde prinsessen og det halve kongerige. Eller hvad de nu skulle bekæmpe for at få adgang til den store pris. En romantisk kliché i sin grundform, måske, men det er alligevel ikke deri, eventyrets force som fortælling ligger. Den er at finde i variationen over det kendte tema.
Når den yngste bror altid vandt prinsessen, var det ikke, fordi han var yngst, men fordi han valgte en ualmindelig tilgang til den farefulde opgave. Han gik ikke direkte til angreb på dragen, men valgte en anden strategi, overraskende, overrumplende og herigennem effektiv. Han gik ind imellem de tydeligt markerede ruter. Som var han kløgtig nok til ikke blot at se den tilvoksede rosenbusk, men også den sovende prinsesse inde bagved.
Lars Christensens malerier er som eventyr variationer over et kendt tema: det abstrakte maleri. På ensfarvede baggrunde snor et virvar af bånd sig i strålende, højtbelyste kulører, neongrøn, skarporange, klarblå. Som eventyr har Christensens malerier dog også videre dimensioner, overraskende, overrumplende, når man følger båndene ind bag det mest iøjnefaldende formspil.