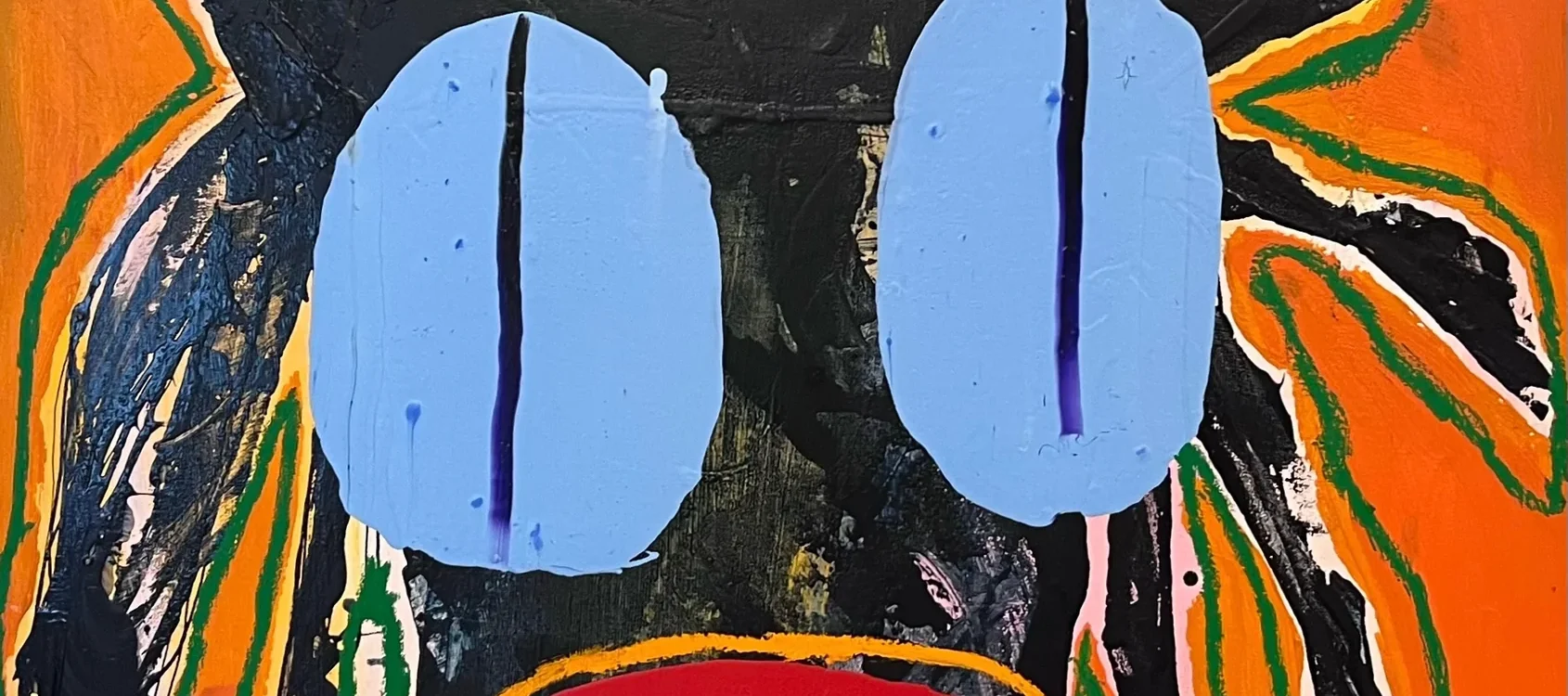 Works by Artist
Available Works
CV
See available works on our gallery shop
Jack Kabangu
Born 1996, Zambia with roots in DR Congo
Lives and works in Denmark since 2005
About
Jack is a self-taught visual artist, his very peculiar style is full of vibrant colors and energetic lines. The fusion of contemporary art and Kabangu's African heritage may be seen in his artworks. His works combine figurative elements with resonant colors and abstract shapes. While drawing comparisons to abstract expressionism and feeling the Jackson Pollock spontaneity and movement while exploring the artworks, Kabangu is presenting a completely distinct form of contemporary expression. The artist prefers to use his fingers, spatulas, scrapers, and paint brushes while using a painting technique that involves black paint running on the canvas and bold background colors.
In addition to his memories, environment, and experiences, hip hop and rap music, movies, and urban life all have an impact on Kabangu's art. Being a member of the millennial generation, listening to rap music, his style reflects the generation he belongs to. Referring to everything from his general presence to his thoughts and general aesthetic perspective.
Playfulness and cheerfulness can be seen beneath the surface of the artwork's first impression. Kabangu believes that making art is also about having fun while doing it. Therefore, whenever viewers experience the works of Jack Kabangu, they are invited to connect with their inner joyful child, feeling positive, creative emotions, -taking the constructive, uplifting feelings into their everyday lives. Kabangu's beginning point is to discover a link between the dark and the light, the ugly and the beauty, encapsulating the viewer in a realistic yet abstract world that may encourage the viewer to positively fantasize. Jack Kabangu is very conscious of the artistic context that reaches beyond the artwork itself when he creates his works. According to the artist, a piece of artwork is complete once it has been placed in its final environment.
There is a strong connection and visible reference to graffiti art in his paintings. This connection leads back to the East Village, New York, in the 1980s, where artists such as Jean Michael Basquiat flourished.
Exhibitions
2023 Art Fair Tokyo, The Anzai Gallery
2023 Art Herning, Gallerie Moderne Silkeborg
2022 "My Beautiful Ugly Home" solo show, Galleri Christoffer Egelund, Copenhagen
2022 "Borgerkrigen (The Civil War)" solo show, Over the Influence, Hong Kong
2022 "XMAS'22 The Annual Winter Group Show", Galleri Christoffer Egelund, Copenhagen
2022 "What Lies Within Us" group show, Maddox Gallery, London
2022 "Summertime'22" group show, Galleri Christoffer Egelund, Copenhagen