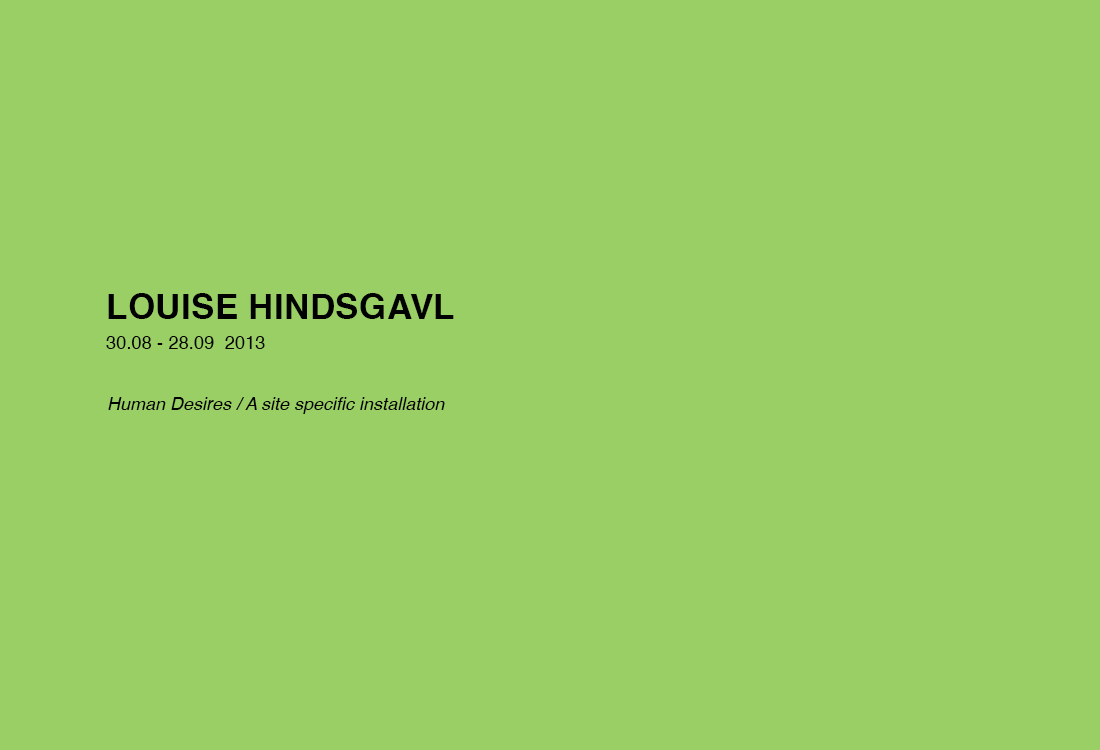 Louise Hindsgavl / Human Desires
Galleri Christoffer Egelund proudly presents the site specific installation Human Desires by the Danish artist Louise Hindsgavl (b. 1973).
Anthropomorphic frogs with feathery wings and their friends occupy the project room at Galleri Christoffer Egelund from Friday, August the 30th. The series Human Desires consists of hovering nightmare tableaus in porcelain displaying human lust and desire – the forbidden kind. The bestial side of man has taken over, and this is evident as the porcelain figurines are composed of equal parts human and animal. In one of the mobiles a player with a cow's head is conducting female genital surgery on herself, grinning, apparently unaffected by the circumstances (Human Desires #7). The artist emphasizes the absurdity of such a voluntary cosmetic operation particularly if you consider its evil twin: involuntary female circumcision, also known as Female Genital Mutilation, often seen in parts of Africa and The Middle East. In another part of the room we are confronted with the remnants of a playhouse after a bombing raid. This is a case of vengefulness where innocence was ignored.
As always, in the narrative universes of Louise Hindsgavl we are lured in by the beautiful, seemingly innocent, porcelain and then in for a thought-provoking shock when the traditional shepherd girl grows animal limbs and conducts cosmetic genital surgery.
Louise Hindsgavl graduated from Designskolen, Kolding, DK, in 1999 and has exhibited widely in Denmark, Europe, the US and Asia since her graduation. She is represented in major collections worldwide including: National Museum Stockholm, Sweden; Victoria and Albert Museum London, UK; Minneapolis Institute of Arts, MIA, USA; Carlsberg Art Fondation, DK; The The Röhsska Museum, Gothenburg, SE; Designmuseum, Copenhagen, DK; Trapholt, Kolding, DK; ASU Art Museum, Arizona, USA etc. Furthermore, among others, she has received: The Danish Art Foundation work grant of 3 years (2010), Silkeborg artist grant (2010), The Danish Art Foundation grant (2008, 2006, 2004) and The Biennale Award, The Biennale of Arts and Craft and Design (2004). For an elaborated biography, please visit: www.christofferegelund.dk.
Galleri Christoffer Egelund cordially invites you to the opening of Louise Hindsgavl: Human Desires on Friday the 30th of August from 4-8 pm and Saturday 31st of August from 12-4 pm. The exhibition will run until September 28th. Opening hours: Monday-Friday 11-18, Saturdays 12-16. For further information and press photographs please contact the gallery at: info@christofferegelund.dk or at +45 33 93 92 00.