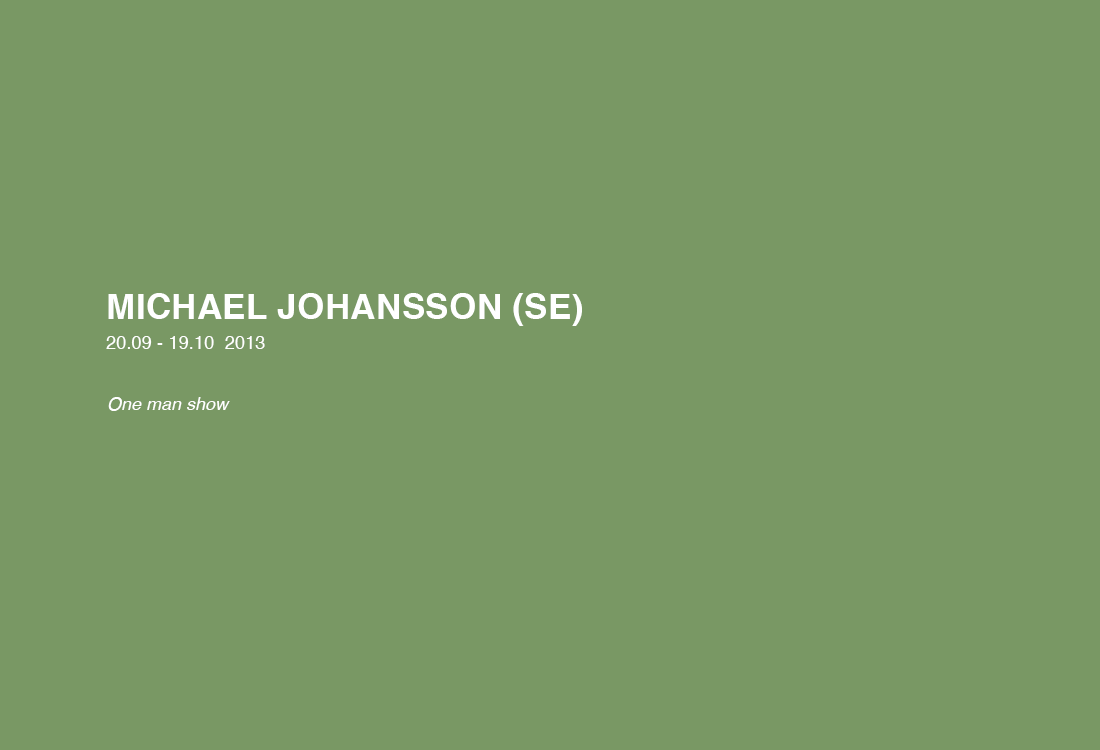 Michael Johansson / One Man Show
MICHAEL JOHANSSON
LINES AND LAYERS / 20.09. – 19.10. 2013
OPENING RECEPTION FRIDAY SEPTEMBER 20TH FROM 4-7 PM.
Galleri Christoffer Egelund proudly presents the exhibition Lines and Layers by the Swedish artist Michael Johansson. Lines and layers unfold in the artist's strict, yet witty, compositions of everyday objects.
The exhibition is primarily made out of new pieces that can be divided into two series; every piece constructed from objects found at one of the artist's many visits at flea markets. Foldable Ladder Assembly Kit – II is one example from the series of 1:1 construction kits. A ladder has been taken apart and the parts put together in a metal frame with strings attached. To strengthen the association with construction kits the pieces has been painted entirely orange. The function of the ladder has been removed to transform the object into art. The same can be said of the other type of artworks presented at the exhibit. Here multiple objects have been stacked together as real life Tetris cubes. Boxes are stacked as a sandwich with an intermediate layer of smaller boxes and containers put together in strict order and thereby impede the originally intended function.
What unites the two different types of pieces is the fact that gathering, collecting and assembling is essential to human beings. We have moved from the hunter-gatherer society to a gatherer-assembler society. We gather stuff around us and assemble ourselves, as is shown in condensed form at the exhibition. When the artist is out gathering objects at the flea markets, he follows a very stringent system, namely one where he finds one seemingly unique object and then continues his search until he finds another one just like it. This underlines the issue of authenticity in the age of mass production. However, all hope is not lost in Johansson's art, because even if the objects are the same, the marks left by their users are unique. This in turn leads to thoughts of a similar issue, namely the fact that a large part of a person's identity is defined by consumption. That is, you assemble your identity with self-assembly furniture from IKEA.
Johansson's work continues the tradition of the readymade; the exhibition of mass produced, everyday objects as art, started by the famous urinal (Fountain, 1917) of the Dadaist Marcel Duchamp. But instead of just exhibiting the ladder or the boxes as they are found he uses the readymades at materials as a painter uses paint and canvas.
The Swedish artist achieves to create order in the mess of things surrounding us. Harmony and balance emerges when he makes use of traditional artistic effects such as straight lines, repetition and colour balancing. The artworks are delights for the eye. But it is the symbolic value and storytelling that is at the forefront. Michael Johansson uses the mass produced objects to create unique artworks with several layers of meaning to help us reflect on our everyday surroundings.
Michael Johansson graduated from Trondheim Art Academy in 2003 with studies at Kunsthochschule Berlin-Wei?ensee (2002) og Royal College of Art, Stockholm (2003) and took his master degree at Malmö Art Academy (2003-2005). Since he graduated he has exhibited extensively both in and outside of Sweden including at Malmö Konstmuseum (SE), Galerie Filomena Soares (PT), Moscow Museum of Modern Art (RU), Meessen de Clercq (BE), Vigeland-museet (NO) og Nikolaj Kunsthal (DK). Furthermore, he is represented in several collections among these Malmö Konstmuseum (SE) and has received various grants including Norwegian Government's 3-year working grant and IASPIS artists in residence in Tokyo.
Galleri Christoffer Egelund cordially invites you to the opening of Michael Johansson: Lines and Layers on Friday the 20th of September from 5-8 pm. The artist will be present during the opening reception. The exhibition will run until October the 19th 2013. Opening hours: Monday-Friday 11-18, Saturdays 12-16. For further information and press photographs please contact the gallery at: info@christofferegelund.dk or at +45 33 93 92 00.