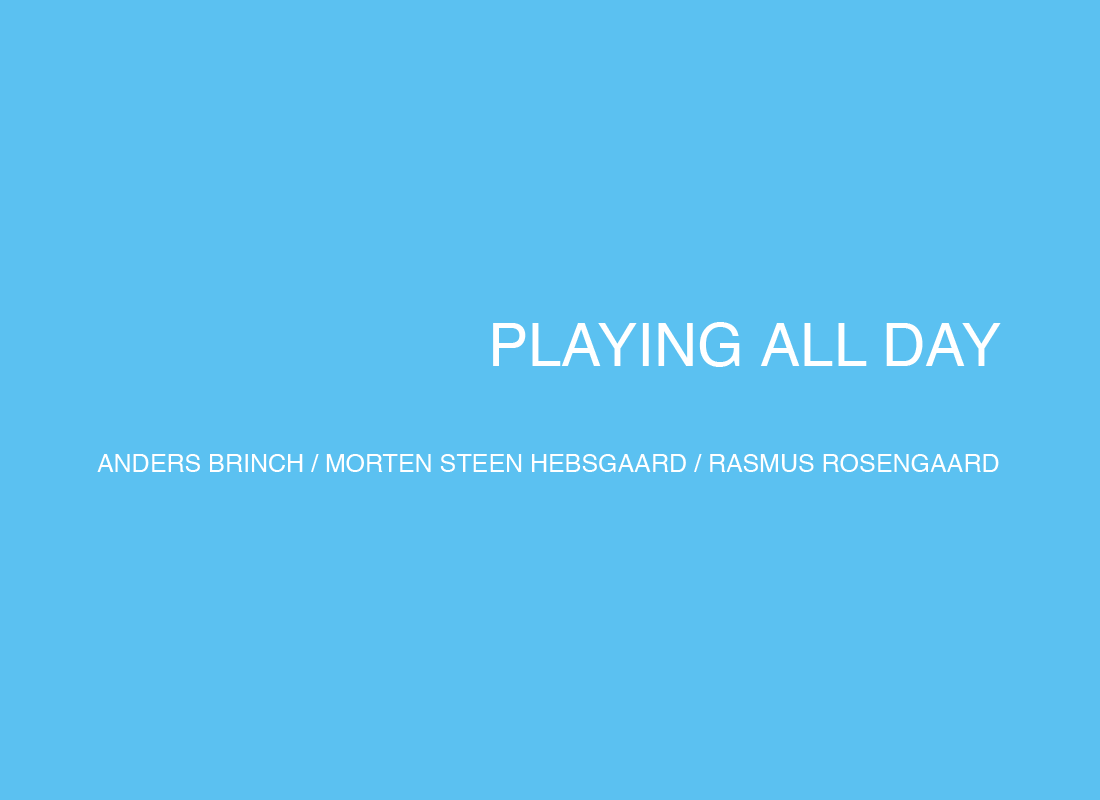 Playing All Day / Group Exhibition
ANDERS BRINCH, MORTEN HEBSGAARD, RASMUS ROSENGAARD
Fernisering d. 13 maj 2005, fra kl. 16 – 19
Afterparty: TOP DOLLAR, Boldensgaard fra kl. 20-? (gæsteliste).
Udstillingsperiode 13 maj – 13 juni 2005
Åben man-fre. 11-18, lør. 11-15
Sammensætningen af de tre kunstnere har både for galleriet og dem selv været på ønskelisten længe –
så det er med stor glæde nu at kunne invitere til udstillingen "PLAYING ALL DAY".
Med den åbne udstillingstitel "Playing all day" er der lagt op til en legesyg omgang med medie, materiale og indhold. Anders Brinchs underfundige keramik og store malerier – med titler som "The great black oak/ black chewing gum", "Playing all day/ blue chewing gum", "Green cobra/ pink chewing gum", "Suddenly it became very dark/ white chewing gum" – graver dybt i barndomserindringer og fantasiens eget magiske liv, at lege hele dagen, at fare vild i skoven, pine naboens hund med efterfølgende selvlede og skyldfølelse, at opdage, at det pludseligt er blevet mørkt og koldt, at hundrede øjne stirrer på dig, så du "tager benene på nakken" – og skynder dig hjem…
Som kontrast til Brinchs farverige univers, bidrager Rasmus Rosengaard med sine store sorte oliemalerier.
Et på een og samme tid konsekvent og eksperimenterende projekt. Malerierne er i ordets bogstaveligste forstand temmelig tunge med fede lag af sort oliemaling iblandet savsmuld og sten –  det er en fysisk udfordring at stå foran Rosengaards billeder. Hvis man går på opdagelse i den sorte Asfaltlignende overflade, vil man kunne opleve små åbenbaringer af landskaber og andre figurationer. Som et kreativt svar til malerierne er Rosengaard kommet frem til at imitere stilen på et noget så let og poetisk materiale som silkepapir, der naturligvis også er sort.
Morten Hebsgaard udstiller tre objekter, hvor han med sin præcise og gennemførte stil har videreudviklet og manipuleret genkendelige hverdags genstande som alle synes at tematisere alvoren i legens "win or loose". To trehjulede cykler, som deler samme forhjul med titlen "Survival of the fittest". Et roterende rundt bordtennisbord, der drilsk hedder "rundt om bordet" som dikterer formen som en misforstået direkte oversættelse af ordenes betydning. Et tredje værk hedder "fireogfyrre fodboldspillere": en infantil og bogstavrimene titel til dette bordfodboldspil, som næppe er set før.
Til åbningen leverer en kunstner, der går under navnet "VINYL TERROR" en live performance i eksperimenterende lyd kunst.
Nærmere oplysninger: Christoffer Egelund, T. 33939200 / christoffer@egelund.dk