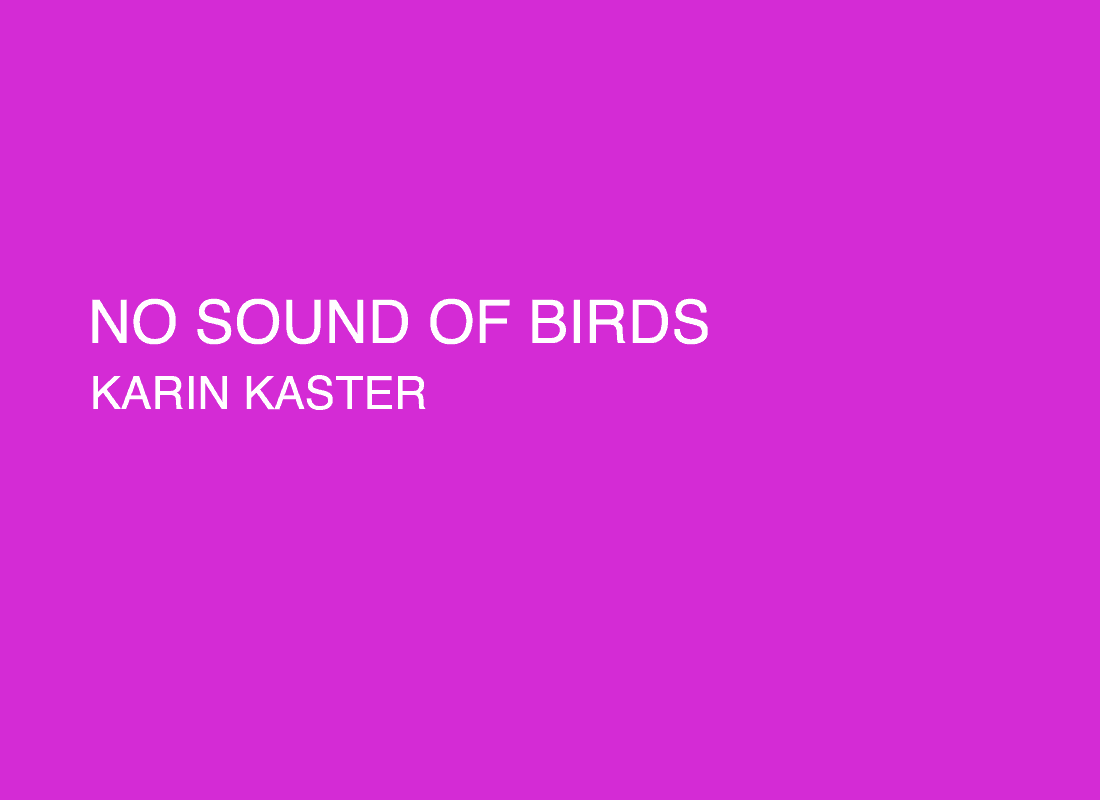 No Sound of Birds / Karin Kaster
"NO SOUND OF BIRDS"
Solo exhibition KARIN KASTER
Opening Friday 23. September 4pm-7pm
Exhibition ends 22. Oktober 2005
English/
In Karin Kaster's paintings, several extremely different worlds and visual expressions converge: at one moment we are standing in a landscape with stylized evergreen trees, depicted in a hardcore pop idiom; then she is urbanity's artist, leaving her graffiti-like trails on the white virgin canvas with the spray can's refreshingly bold colors; and then again, with keen punctuality, she is 'drawing' with her brush and making use of a detailed and realistic form of expression. Having been a student of architecture, Kaster has a penchant for building fragments, such as boards and bricks, which are often seen in her works floating through the pictorial space. But what comes into mind most of all in connection with Karin Kaster's method is the sampled music that has been pieced together of widely different style-quotations from many musical genres. Her doorway to the subconscious is wide open and she is guided along by associations that suddenly occur to her – as a kind of stream of consciousness. These subconscious digressions render her paintings unorthodox and amazing. Their color scheme – with its employment of very intense acrylic colors that she mixes up from the three primaries – simply bowls the viewer over. At first glance, her paintings might look like one huge aesthetic car crash, causing the spectator to feel uneasy. It is, of course, always possible to establish a surreal logic, which amalgamates and coalesces into a coherent and plausible narrative in the mind of the viewer, that is, if she/he is open and disposed to be receptive to their effect.
Besides Karin Kaster, this new approach to painting is being spoken for by artists like Kathrine Ærtebjerg, Eske Kath, Allan Otte, Maria Torp, Ivan Andersen and Lise Blomberg Andersen. These painters are exploiting the pluralistic field of possibilities for which painting – in recent years – has been opening up. In the wake of decades of conceptual art and aggressive power plays on 'the scene', what has made itself apparent is a need for a more fervently sincere idiom, which cultivates the intimate universe in a figurative form of representation. Although it is true that the young painters who have just been mentioned here differ in their respective approaches – which run the gamut from delicately tooled fairytale universes to explosive physical expressionism – there are indeed certain features in common. To some extent, this justifies a collective reading of their work as one new chapter in art's history, comprising a particular aesthetics, within which fairytales, nature and dreams converge with the body and collide with the impetuous and uproarious metropolitan world. These artists are taking risks with the narrative – with the passion and the imagination as the points of rotation – while at the same time, they often make use of experienced substance as their point of departure. Of the foreign artists who have inspired Karin Kaster, mention must be made of Franz Ackermann, Laura Owens and Julie Verhoeven. Moreover, a number of different references such as Christmas cards, Japanese postcards and cartoon series can be spotted. Also, several of her paintings are nourished by influences from building sites and from different experiences of nature. 
Cool afterparty at CULTURE BOX, Kronprinsessegade 54A, from 8pm-?
For more information please contact the undersigned.
Dansk/
I Karin Kasters malerier mødes flere, højst forskellige verdener og visuelle udtryk: Snart er vi i et landskab med stiliserede grantræer, fremstillet i hardcore popstil. Snart er hun urbanitetskunstneren, som sætter sine graffitilignende spor på det jomfruelige, hvide lærred med spraydåsens pangfarver. Snart 'tegner' hun med stor akkuratesse med penslen og benytter en detaljeret, realistisk udtryksform. Som tidligere arkitektstuderende har hun forkærlighed for bygningsfragmenter som brædder eller mursten, der ofte ses svævende gennem billedrummet. Karin Kasters metode minder mest af alt om den samplede musik, der er sammenstykket af vidt forskellige stilcitater fra mange musikalske genrer. Hendes dør til det ubevidste står pivåben, og hun ledes af associationer, som pludselig kommer til hende – som en slags stream of consciousness. Disse ubevidste tankespring gør hendes billeder uortodokse og overraskende, og farveholdningen – brugen af meget stærke akrylfarver, som hun selv blander af de tre primærfarver – er ved at slå benene væk under betragteren. Ved første øjekast kan de tage sig ud som ét stort æstetisk automobilsammenstød, der gør betragteren usikker. Det er imidlertid altid muligt at etablere en surreel logik, som samler sig til en sammenhængende og plausibel fortælling i betragterens hoved, hvis man vel at mærke er åben over for dem.
Karin Kaster er en del af opbruddet fra det mere formelle maleri, som har fundet sted inden for de seneste 4-5 år. En generation af unge kunstnere har taget et mere fabulerende billedsprog i ed. De er født i midten af halvfjerdserne. Efter en lang periode med mere formelle maleriske eksperimenter, kan man iagttage et ny og langt mere lystbetonet og legende maleri, der vinder frem. For disse unge malere er intet helligt. De kan bruge løs af kunsthistoriens store billedlager – men de gør det originalt og i pagt med informationssamfundets nye medier og nye visualiteter. Deres maleri tager afsæt i deres egne, private syner og oplevelser, ofte af kropslig art. De har formået at forny det overbevisende og i stadig nye retninger. De udveksler med så vidt forskellige genrer som popkunst, arkitekturtegning, eventyr- og børnebogsillustration og det nyrealistiske maleri, men vel at mærke på deres helt egen måde.
Cool afterparty på CULTURE BOX, Kronprinsessegade 54A, starter 20-?
For mere information kontakt venligst undertegnet.