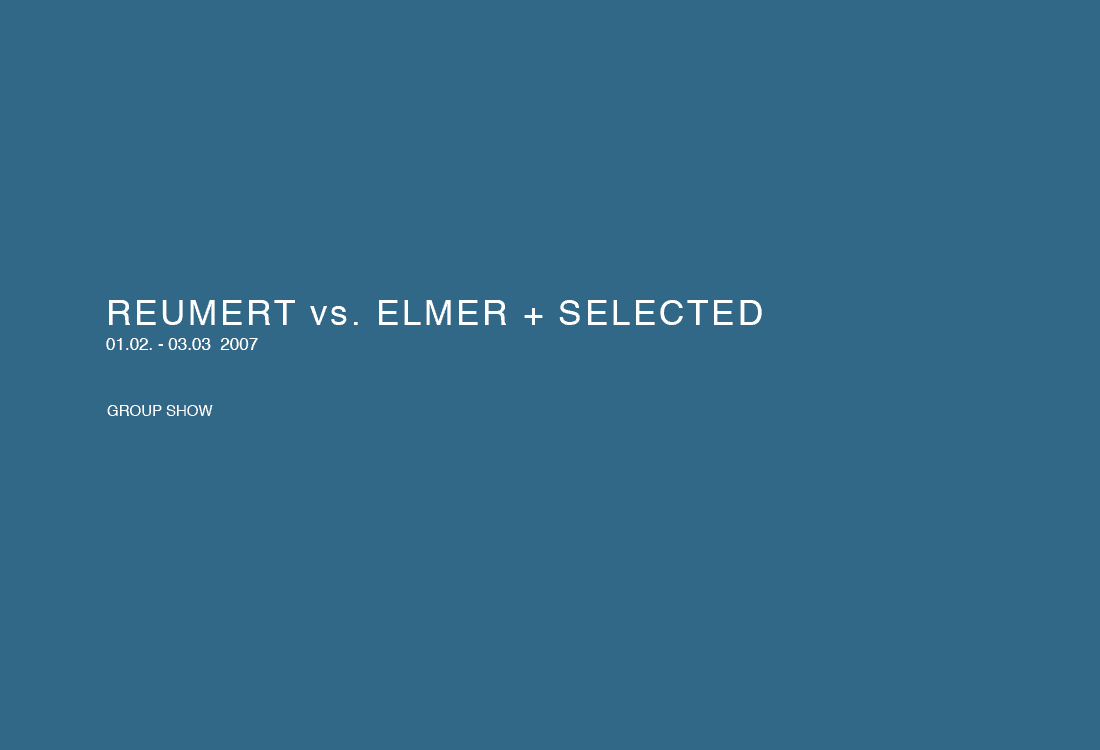 Reumert vs. Elmer + Selected / Group Exhibition
Anders Brinch (DK)
,
Christian Finne (DK)
,
Christina Malbek (DK)
,
Exhibitions
,
Group Shows
,
Jens Robert Jørgensen (DK)
,
Jon Stahn (DK)
,
Jonas Hvid (DK)
,
Jonas Pihl (DK)
,
Julie Sass (DK)
,
Karin Kaster (DK)
,
Kristian Devantier (DK)
,
Lars Christensen (DK)
,
Malene Hartmann (DK)
,
Maria Torp (DK)
,
Melou Vanggaard (DK)
,
Mette Rishøj (DK)
,
Mette Winckelmann (DK)
,
Previous Exhibitions
,
Rasmus Lütken (DK)
,
Rasmus Rosengaard (DK)
Specially seleted artists by Niels Reumert & Elmer /
ANDERS BRINCH /  LARS CHRISTENSEN /
KRISTIAN DEVANTIER / CHRISTIAN FINNE / MALENE HARTMANN /  JONAS HVID SØNDERGAARD / JENS ROBERT JØRGENSEN /
KARIN KASTER / RASMUS LÜTKEN / CHRISTINA MALBEK /
JONAS PIHL /  RASMUS ROSENGAARD / METTE RISHØJ /
JULIE SASS / JON STAHN / MARIA TORP / MELOU VANGGAARD /  METTE WINCKELMANN
Grand opening reception Thursday February 1, 16-20
The exhibition ends March 3, 2007
/ Danish / 
Den 31. oktober 2003 kl. 17.30 i København. ELMER har netop forladt Kunstakademiet efter en værkgennemgang med de studerende. I vældigt humør træder han ind til fernisering på Egelund, hvor NIELS REUMERT udstiller. Han betragter et kæmpemaleri på endevæggen og ser på REUMERT: "Skal du ikke opdateres lidt". REUMERT Vurderer overbærende ELMER: "Hvornår skal vi gå i gang". Tiden går og hver gang de  mødes tilfældigt i byen spørger de: "hvornår skal vi gå i gang". Marts 2006. Et lejet lokale i A-husen på Islandsbrygge. REUMERT lægger ud med deførste strøg, hvorefter ELMER fortsætter. Spillet er i gang. En udfordring til maleriet og billedet i al almindelighed. Den rigtige maler imod konceptkunstneren, hvor der males og diskuteres. Hvor kampen om billedet svinger mellem konfrontation og dialog, mellem benspænd og fælles beslutninger. Til præsentationen af arbejdet har Reumert/Elmer allieret sig med 18 unge "updatede" malere. De skal hver deltage med ét værk, som nøje er udvalgt af Reumert/Elmer og med udgangspunkt i projektet skriver en kort tekst, som bliver katalogets gennemgående malertekst.
/ English /
It is five o'clock in the afternoon in Copenhagen on Halloween, 31 October 2003. Elmer has just left the Royal Danish Academy of Fine Arts after a master class. He is ebullient as he steps over the threshold into Egelund, where the artist Niels Reumert is opening his exhibition. Elmer contemplates a huge painting on the end wall and looks over at the artist, Reumert. "Shouldn't I update you a little bit?" he says. Reumert looks at Elmer, indulging him as he replies, "When shall we start?" Time passes, and each time they run into each other in Copenhagen, they ask, "When shall we start?" It is March 2006. We are in a rented room in the A-Huset building at Islandsbrygge in Copenhagen. Reumert starts off, putting brush to canvas first. Elmer then takes his turn. The game is on: a challenge to the visual arts and to the picture itself. The "real" painter versus the conceptual artist: they paint and discuss. The "battle of the painting" fluctuates between confrontation and dialogue, between the artists making joint decisions and tripping each other up. To introduce their works, Reumert and Elmer have allied themselves with 18 bleeding-edge young painters. Each will contribute one work of art carefully selected by Reumert and Elmer and, with a starting point in the two artists' project, they will each write a short text to accompany their paintings on exhibit and in the catalogue.