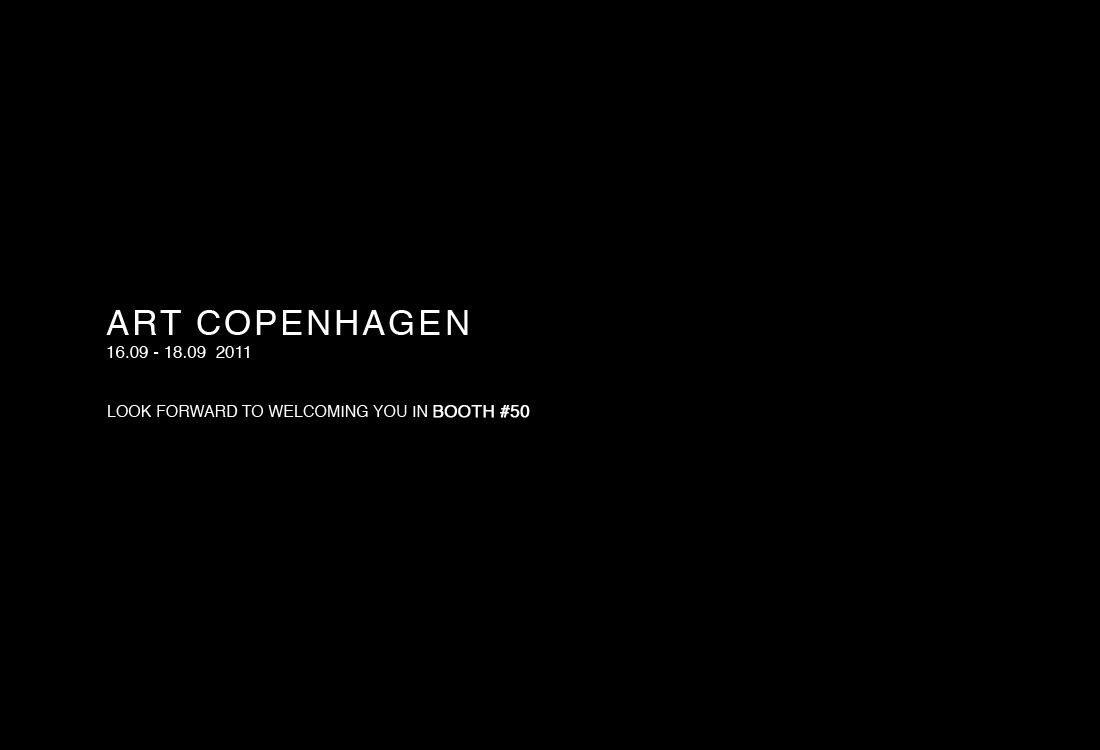 ART COPENHAGEN / The Nordic Art Fair
BOOTH 13
SEPTEMBER 16 – 20 2009
We are proud to announce our participation at ART CPH 09 and looking forward to welcome you in Booth 13.
This year we have specially selected works of Adam Saks, Anders Brinch, Morten Steen Hebsgaard and Theis Wendt.
Art Copenhagen The Nordic Art Fair proudly presents leading galleries from Denmark, Sweden, Norway, Finland, The Faroe Islands, Iceland and Greenland.
Art Copenhagen is the biggest art fair in the Nordic Countries and focus on contemporary and modern art.
It is a unique meeting place in the heart of the Nordic art scene and is anually attended by art collectors, art dealers, artists, curators, art critics and art lovers from all over Europe.
How to get there
Visit www.rejseplanen.dk for the fastest way to Forum.
Bus lines
Bus lines 2A, 67, 68 and night bus 82N go to Forum Station
(Linie 2A departures approximately every 5 minutes from Rådhuspladsen on weekdays).
Bus line 3A and night bus 80N goes to H.C. Ørsteds Vej.
Bus line 29 goes to Danas Plads.
Bus lines 66, 69, 250S and night bus 92N stop at the Åboulevarden stop.
For more information, please go to the movia-web site at www.movia.dk

Metro
It is now possible to take the Metro straight to Forum. With only 2 minutes to Nørreport and 12 minutes to the Bella Center, Forum is now situated more "central" than ever. For more information about the Metro visit the official web site at www.m.dk

Nearest S-train station
Vesterport Station
Parking
Forum is located in the Frederiksberg parking zone, where parking is free for the first two hours. If you need to park for a longer period of time, you must purchase an all-day parking permit. This permit can be purchased at the coat check.
In the Frederiksberg parking zone parking is free on weekdays after 6 pm, on Saturdays after 3 pm, and on Sundays.
On the corner of Blågårdsgade and Åboulevarden is "Det Grønne P-hus". Parking only DKK 9 per hour. The parking garage is only a few hundred metre from Forum and is open 7 days a week.