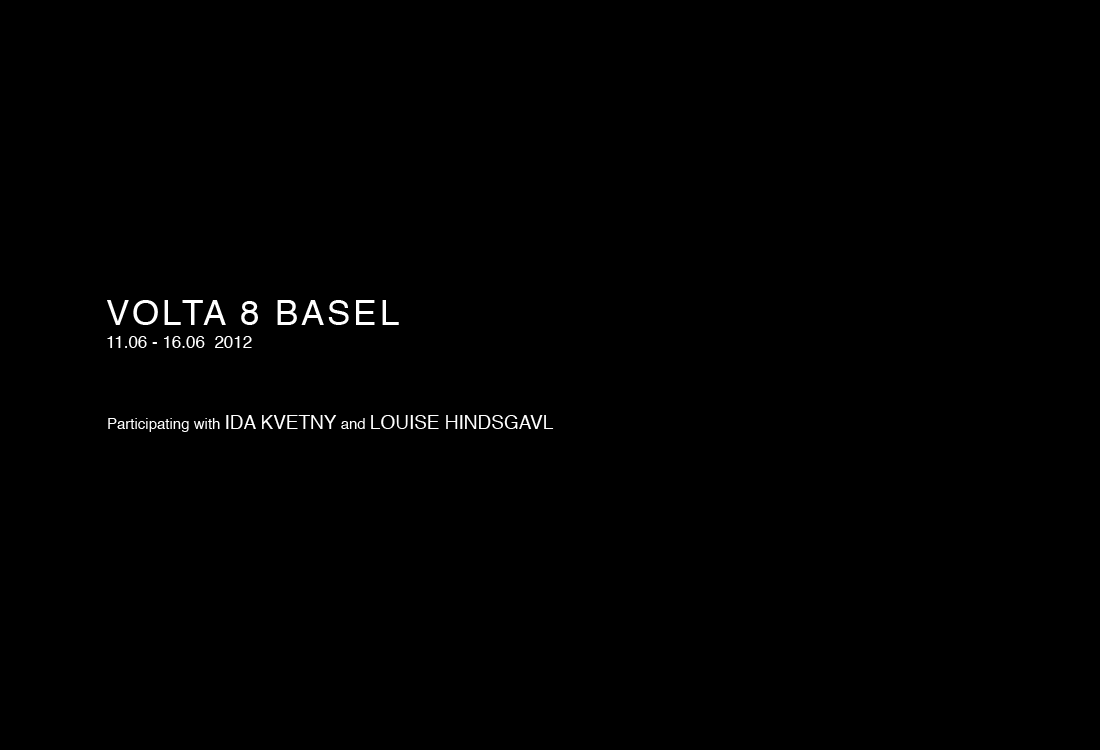 IT IS WITH GREAT PLEASURE WE ANNOUNCE OUR PARTICIPATION AT VOLTA 8 BASEL FEATURING A DIALOG SHOW WITH IDA KVETNY AND LOUISE HINDSGAVL.
WE LOOK FORWARD TO WELCOMING YOU IN BOOTH C21
VOLTA 8 will take place from Monday June 11th through Saturday June 16th at Dreispitzhalle, Helsinki Strasse 5, CH-4142 Münchenstein, Basel, close to the Schaulager. For more information please visit www.voltashow.com
In Ida Kvetny's (b. 1980) installations, juxtaposed paintings, drawings and sculptures all contribute to the same investigation of the limitations of painting. Her cut-out drawings mirror the stencils that her paintings have been spraypainted through. Only they are negations: the cut-out removes what the spraypaint adds. The figurative elements in the paintings have been cast to sculptures whose shadows are thrown onto the projection of drawings. Tiles, spraypainted through stencils, become sculptural drawings as they cover floors or form walls.
The paintings are an explosion of vibrant colors. Twisting and interlacing lines. Spaces that overlap. Techniques that succeed one another. Acrylic, marker, spraypaint, water, metallic and neon colors. Layered or side by side. Like one big chain reaction. Elements that lead to something else. Unhierarchic processes like the forces of nature, represented here by roots, trees and intestines. The surreal and grotesque figures, the mix of figuration and abstraction and the working process itself is that of the automatic drawing that allows subconscious ideas to develop.
Ida Kvetny graduated from Funen Art Academy in 2004, Edinburgh College of Art in 2006 and received her MA from Saint Martin's College of Art and Design in 2007. She has exhibited in Brandts, ARKEN Modern Museum of Art, Seoul National University in Korea, Kunsthal Charlottenborg and Holstebro Museum of Art etc.. She has received prestigious grants such as The Maclaine Medal, Young Artist Of The Year Award, Aage and Yelva Nimb honorary grant and most recently Niels Wessel Baggers Honorary Award at Louisiana.
Louise Hindsgavl's (b. 1973) fascination with mutants that are part human, part animal does not spring from a love of science fiction or interest in new experimentation in inter-special transplantation. She is bringing to the forefront people's second nature – the side of human nature governed by pure instinct that lurks behind a polished surface unchecked by the conscious self.
She uses exaggeration as an effective way of making us laugh. Thus her figurines not only hold a place in ceramic circles of popular culture, they also relate to popular storytelling and cartoons. The author Marina Warner tells us in her book, "Fantastic Metamorphoses, Other Worlds" that stories about animals that become human and humans that become animals are transitional stories that express conflict and insecurity. The characters in these stories reveal poisonous truths about themselves as do her figurines. The essence of the story that she is telling with porcelain can perhaps be summarized with the word burlesque. This word is French and means extravagant, comical, untamed, fantastic and rude.
Hindsgavl mainly works in porcelain. Her works have a distinctly narrative expression, both when she works with one-off pieces and with more utilitarian items. She wants us to experience the multiplicity of ceramics through her work, while at the same time stimulating our imaginations. She feels that we often let the pre-determined images of others dictate our taste. She wants to change that tradition and to this end her works often have surrealist undertones, where she produces a form of alternative reality for the viewer to enter.
Her works are represented at several museums including the National Museum in Stockholm, Victoria and Albert Museum in London, Danish Museum of Decorative Art, Trapholt Museum of Modern Art, Röhska Museum, Carlsberg Art Fondation, Applied Art and Muse Ariana in Geneva.
More information about Ida Kvetny and Louise Hindsgavl please contact the gallery by email info@egelund.dk or call us +45 339 392 00.